Top 40+ aquarium stands for sale – comparison tables with dimensions
Updated: February 19, 2021 - By: Lucas - Categories: Equipment
Whenever you have an aquarium over 5 gallons, don't ignore the need for an aquarium stand. Selecting the right aquarium stand can be as important as the aquarium itself. An aquarium stand needs to be sturdy and strong but still look nice at the same time. This article will sort out any hesitation you have when choosing a stand for your tank.
Best stands for different fish tank sizes
10-gallon fish tank stand (20 x 10-inch)
20-gallon fish tank stand (24 x 12-inch)
20-gallon long / 29-gallon tank stand (30 x 12-inch)
30/40/50 gallon tank stand (36 x 12 and 36 x 18-inch)
55/60/75 gallon tank stand (48 x 12 and 48 x 18-inch)
Fish tank stand review
Ameriwood Home Flipper 10/20 Gallon Aquarium Stand
Dimensions: 25″L x 15.7″W x 28″H
For tanks: 10/20-gallon
Material: MDF and particleboard
Color: Black Oak (Rustic Oak available)
This basic particle board aquarium stand has been reimagined to look like a modern tier-like pedestal stand with an elegant flare.
Flipping the stand
It has the capability to fit either a 10- or 20-gallon aquarium, simply by flipping the entire stand top over bottom. The smaller end fits a 10-gallon, and the larger end fits up to a 20-gallon, edge to edge.
It features a large storage cabinet, to store all the necessary aquarium supplies and equipment while keeping your aquarium space neat and clutter-free.
This stand also provides additional shelf space, top, and bottom, for the option of displaying any desired home décor or aquarium accents.
This aquarium stand would work great with glass or acrylic aquariums. Its black oak woodgrain finish helps complete the minimalist look so many aquarists are looking for today.
Imagitarium Newport Wooden 20-Gallon Tank Stand
Dimensions: 24.75″L x 12.75″W x 30.25″H
For tanks: 20-gallon
Material: solid wood
Color: black
This simple, yet modern aquarium stand is made from solid wood, painted black to seamlessly match any home décor style.
Measuring 24.75 inches long, it can fit up to a 20-gallon aquarium (high form), edge to edge. The top is a solid piece of wood, making it a great option for glass or acrylic aquariums.
It provides two additional shelves, one in the middle and at the bottom, to store any food or other aquarium supplies.
This stand is easy to assemble and has adjustable protective nylon feet to make leveling super easy.
Aqueon Forge 10-gallon Aquarium Stand
For tanks: 10-gallon (20-29 gallon options available)
Material: steel
Color: black
The Aqueon Forge aquarium stand is a great option for those aquarists that are looking for a multi-tank setup. The top can fit a larger aquarium ranging in size of 15- to 20- gallons. The bottom fits a smaller aquarium of 5.5 gallons or provides more space for home décor.
There are two size options for this stand, a 20-inch x 10-inch, and a 24-inch x 12-inch. It is constructed from rust-resistant powder-coated steel and is easy to assemble in 7 easy steps.
This stand also features reversible wood panels with one side black and the other a light brown. This is to provide a bit of individuality and versatility in creating the perfect look. The top wood panel can easily flip up, providing easy access for cleaning the bottom aquarium.
Aquatic Fundamentals 29-gallon Metal Aquarium Stand
Dimensions: 30.3″L x 12.5″W x 27.8″H
For tanks: 20-gallon long / 29-gallon
Material: steel
Color: black (gray available)
The Aquatic Fundamentals metal aquarium stand is elegantly crafted from powder-coated steel and displays a stunning scroll leaf pattern down both sides of the stand.
The reviewed version is 30.3 by 12.5 inches, used for a 20-gallon long or 29-gallon tank. It is available in 4 sizes for tanks up to 48 inches; 10-gallon, 20-gallon,55-gallon. It also has two powder-coated finish color options, black or gray.
Caitec Bird Toys TitanEze Double Aquarium Stand
Dimensions: 32.5″L x 13″W x 32″H
For tanks: 20-gallon long, 29-gallon
Material: steel
Color: black
This aquarium stand can fit two 29-gallon aquariums, one top, and one bottom. It's made from powder-coated steel, making it moisture and rust-resistant.
Its double tank capability gives space for many different aquarium setups, from freshwater planted aquariums with CO2 to saltwater aquariums with a sump filtration.
This sturdy stand is embellished with decorative swirls on the front, giving it an elegant look that will match any home décor.
It's easy to assemble with no additional tools required.
Imagitarium Preferred Winston wooden aquarium stand
Dimensions: 30″L x 12.5″W x 29.5″H
For tanks: 20-gallon long / 29-gallon
Material: solid wood
Color: espresso
This rich espresso-colored stand is durably constructed out of solid wood, making it a wonderful option for glass or acrylic aquariums up to 29-gallons in size.
It also features a double door cabinet with an adjustable shelf to accommodate the storage of any aquarium supplies.
Imagitarium Brooklyn Metal Tank Stand, 40-gallon
Dimensions: 36.5″L x 18.5″W x 29.5″H
For tanks: 40-gallon breeding tank, 50/65-gallon
Material: steel
Color: black
The Imagitarium Brooklyn metal aquarium stand is durable and is built out of solid steel. It is coated with an elegant black finish making it moisture-resistant and giving your aquarium a modern look.
This easy to assemble aquarium stand also comes with adjustable feet, making it quick to level before adding your aquarium.
This stand is 36-inches long and will easily fit a standard 40-gallon breeding aquarium or a 50-65 gallon tank that is 36 inches long. Other sizes are also available for aquariums from 10-55 gallons.
Aquatic Fundamentals Aquarium Stand with Storage
Dimensions: 37.37″ L x 13.12″W x 28.25″H
For tanks: 30-50 gallon
Material: MDF wood
Color: black (serene cherry and solar oak available)
This contemporary styled aquarium stand is made from dense fiberboard and covered in a black finished melamine laminate. The top is made of one solid piece and will support either glass or acrylic aquariums.
Five size options can hold aquariums starting at 29-gallons and up to 90-gallons, making these stands suitable for large fresh or saltwater systems.
The back of the stand is left open with a single support brace, giving easy access to filter tubes and power cords. Inside the stand is open giving ample space for various filtration setups and easy storage of other necessary equipment. Which is all easily concealed by either one or two doors (depends on size).
Flipper Wildwood 55 Gallon Aquarium Stand
Dimensions: 50″L x 15.75″W x 30″H
For tanks: 55-gallon
Material: MDF wood
Color: rustic gray
The Ameriwood Home aquarium stand, made from laminated particleboard and MDF, is built to fit glass or acrylic aquariums. It comes as a rusty oak woodgrain finish paired with brushed nickel door handles.
Four-shelf cabinet
Inside the double door, the cabinet has four shelves, two fixed in place and two adjustable, capable of storing all your aquarium supplies.
The sleek design of this stand is capable of fitting snugly against a wall, giving it a nice three-sided view of your aquarium.
Aqua Culture Deluxe 55 gallon aquarium stand
Dimensions: 48.75″L x 14.25″W x 27.75″H
For tanks: 55-gallon
Material: MDF wood
Color: serene cherry with black doors
This stand is made of solid wood, with a powder-coated finish on the top and base. It can fit a standard 55-gallon aquarium or a larger tank that is 48 inches long.
It has reversible panels, giving you the option of either a cherry accent or a solid black finish. It also has two hinged doors, allowing easy access to storage space for all the aquarium supplies.
The Aqua Culture Deluxe aquarium stand is a wonderful option for those looking for solid support with a beautiful finish. It would be perfect for a business or home aquarium.
Coralife Designer Biocube Stand
Dimensions: 20.5″W x 20.75″D x 29″H
For tanks: Coralife Biocube size 29/32 (size 14/16 available)
Material: MDF wood
Color: black
These stands are specifically designed for the Coralife Biocube all-in-one aquarium kits. Even so, it would be a great option to showcase a small aquarium, either glass or acrylic.
It features either one or two tinted glass-paneled doors that open to a spacious storage shelf. It also has cutouts in the back, making it easy to direct and conceal any power cords.
This stand is available in two models, a 14/16 and a 29/32. The 14/16 model stand fits the Coralife Biocube 14/16 aquarium. The 29/32 model fits the Coralife Biocube 29/32 aquarium.
These stands also have sturdy feet to keep them elevated and stable and are made of water-resistant materials.
How to choose the right aquarium stand
Choosing the right aquarium stand is like picking out a new pair of shoes. There are many different sizes, colors, designs, and additional features that can make choosing the right stand a bit tedious. Most of these tend to be personal preferences, but there are some fundamentals behind choosing the right aquarium stand that will fit your aquarium needs.
Aquarium dimensions
The main thing to note when searching for the right aquarium stand is knowing what the bottom dimensions of your aquarium are. Most aquarium brands will give you the dimensions so you don't have to do any measuring, or you could measure it to make sure. Once you know this, you can make sure you are purchasing a stand that will fit the entire aquarium without any part hanging over.
Weight
On average water weighs about 9 pounds per gallon. As you increase the gallons of your aquarium, the heavier it will be. Add in all the rocks, décor, and the substrate on the bottom of the aquarium, and your aquarium is even heavier. It should also be mentioned that saltwater tends to weigh a bit more than freshwater. With this, you can see that finding a stand that is built out of sturdy materials is very important to the overall support of your aquarium.
Aquarium shape
How does the shape of the aquarium make a difference in what stand you purchase? Just as mentioned above, it is important to know the dimensions of your aquarium. Most aquariums are rectangular, but you can also find ones that are hexagon, round, or cubed. There are some specially-shaped aquariums out there on the market as well. Some of these oddly shaped aquariums have stands that fit them specifically, making it easier for you.
The main thing to make sure of is that the entire bottom of your aquarium is supported by the stand, with no corners or edges off the stand.
Stand material
Because your aquarium has the potential of weighing quite a bit, you really want to make sure that the stand is made from solid material. This can make a huge price difference, but you ultimately get what you pay for.
Good-quality long-lasting aquarium stands are made from either solid wood and plywood or metal. Both of these materials are built to withstand exposure to moisture, can hold quite a bit of weight, and overall last longer.
Other aquarium stands are made from particleboard and/or MDF (Medium Density Fiberboard). These work well until the finish gets chipped or scratched. Without the protection of the finish, these stands quickly get damaged by water. Ensure you handle very carefully with these stands and seal the finish right away after discovering any scratch.
Glass or acrylic aquarium
While glass aquariums need to be supported around the edges, acrylic ones need that for the entire bottom. Choosing a wrong stand or supporting your aquarium wrongly is the easiest way to break the bottom glass or acrylic.
For glass aquariums, the bottom edges need to be supported. A stand with a top either open or close will do well with a glass aquarium as long as you support the tank in the right way. Use four elastic mats to support the edges of the glass aquarium. You should NOT support the entire bottom of a glass tank with a mat. This can easily break the glass if the support surface is not flat.
For acrylic aquariums, the entire bottom needs to be supported, not just the edges, to prevent bowing or splitting. This is because acrylic is more elastic than glass. You will need a stand with a flat surface on the top to support an acrylic tank. You can place the tank directly on the flat surface without any mat. If you use a mat, ensure it is flat.
Storage space
Another factor to consider when choosing an aquarium stand is how much space is given underneath for a sump filtration system or any other equipment that goes along with maintaining your aquarium. As well as ease of access to this area.
This is especially important if you are designing a large reef aquarium with a sump, multiple pumps, skimmers, and any reactors you might be using. If you are doing a freshwater planted aquarium, you will need space to keep your CO2 supply system, any cleaning supplies, or other nutrients that you might be adding.
Height
The height of most aquarium stands is around 28-30 inches tall, mainly so the aquarium can be viewed while sitting down. Some all-in-one aquarium kits come with a stand that can be a bit taller, about 30 – 36 inches.
Mainly you want to ask yourself how you'll be viewing your aquarium. Will you be sitting or standing?
The height also has a direct relation with how much space is given underneath for storage, as mentioned above. Do you need space to fit your arm and head inside to do any filter maintenance?
Moisture
As you can imagine, aquariums cause a lot of moisture. Whether it is from humidity, evaporation, spillage from cleanings, or just everyday splashing from your happy aquatic inhabitants. For this reason, it is important to have a stand that will hold up to all moisture.
If you are creating a saltwater reef habitat, know that you will have what is called salt creep. As the water evaporates from the active water flow and increased temperatures, the salt in the water does not evaporate. Leaving built-up salt on any surface that it comes into contact with. Over time salt can eat through, and wear down any metal joints in the wood stand or cause rust on the steel stand.
Where to locate an aquarium stand?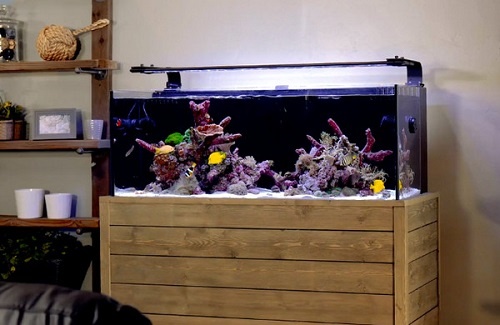 The location is vital to the safety of the aquarium and its inhabitants over the long run. Be sure you understand where to locate the stand in a proper place. There are a number of considerations to understand when placing the stand.
Since water is heavy, the weight will exaggerate floor movement. It is always best to locate a tank near a supporting wall if at all possible. This reduces vibration and movement as much as possible when people move around close to the aquarium. Their weight on an unstable floor can cause a lot of disturbance to the aquarium.
Be aware that the wall itself may radiate either heat or cold depending on the outside conditions and the state of the insulation. In these cases, backing it off the wall a few inches may reduce the influence of the wall radiation on the temperature of the tank – without too many problems from floor movement.
It is also important that the location chosen for the aquarium does not allow direct sunlight to enter the aquarium. Sunlight will cause excessive growth of algae and should never be allowed to get into the tank.
If the sun can get into the back of the tank, that is not difficult to block with a background. If the sun can enter the sides or the front, you will either have to use a background on the side or eliminate the location and find an alternative one.
The ideal location is away from heating or cooling ducts. The aquarium will be using a heater to maintain a level and even temperature over time. Heating or cooling ducts can play havoc on the setting and can create variations on the temperature that is unhealthy for the fish. By removing any possible influence of ducts, the aquarium will be much better able to maintain the ideal temperature levels over the life of the tank.
How to assemble an aquarium stand?
Most aquarium stands are shipped knocked down and must be assembled. Although they come in a larger variety of styles, colors, and materials, they all seem to require the ultimate end user to build the unit from knocked down the package.
Because this is such an important piece of equipment, this is not a place where you should ever consider skipping any steps. Carefully follow the Aquarium stand assembly instructions. Make sure the resulting stand is solid, and sturdy with no movement in any direction when force is applied.
Do not use a piece of furniture that was not designed specifically to withstand the stresses and strains that an aquarium full of water, decorations, and gravel will place in a very concentrated and compact footprint.
It is especially dangerous to place an aquarium on any electrical item. Water and electricity do not mix, so when some water is spilled, the least damage that can be expected would be for the unit to be short-circuited. In the worst-case scenario, it is quite conceivable that a fire could be started. Play it safe, use a stand that is made for the aquarium and the weight it offers.
When you are finished building the stand, it should be sturdy and solid. It should not wobble or shake and should sit solidly on its legs. Adjust the legs, if possible, to make sure the aquarium will sit securely on the support and that the entire set is squarely sitting on the floor.
Another useful piece of advice is to ensure the interface between the fish tank and the stand is level before the tank is placed upon it. It is well worth taking the extra few seconds to test using a proper level. Be sure the stand is not warped or otherwise not a perfectly flat and smooth surface for the outside perimeter of the aquarium bottom.
Test the aquarium for any leakages
Test the aquarium to be sure the unit has been correctly manufactured and does not leak right from the start.
Once you are assured the tank is solid, it should be placed on the stand to ensure that it sits correctly and is a solid mating between the aquarium glass and the aquarium stand. Most aquariums are made properly and rarely leak.
However, it never hurts to make a small test before putting the aquarium on the stand.
As an old-timer, when the tank can fit in the bathtub, I put the new unit in there and fill it with lukewarm water at least halfway to full and wait for at least an hour to ensure the level remains the same.
To be absolutely sure, I mark the outside with a washable marker at the level that I have filled it to. Assuming the tank is allowed to sit between an hour and twenty-four hours, there will be no appreciable evaporation.
If the water drops from the mark, you know that there has been some water leakage. If this ever happens, it was very wise to test the aquarium before the tank was located in its final position.
Once you have been convinced there is no leak after the test, then the tank needs to be emptied and placed on the previously situated stand.
Once the aquarium is on the stand, the pair should become a single unit. There should be no place for the aquarium to move on the stand. It should match the stand and not move on it at all.
All four corners should be solidly supported. There may be a little settling along the edges as the weight of water forces the tank against the stand supporting edges, but this should be minimal. The important support is at the four corners, not a flat surface underneath the aquarium.
How to level the aquarium on the stand?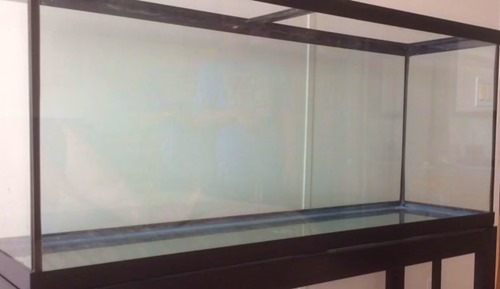 Level the aquarium to ensure that the top of the water in the aquarium is not slanted or otherwise off-center when the aquarium has been properly filled.
This is the first time that a level should be used, before the water or any other materials have been added. The tank is as light as it ever will be, so adding shims under the stand is easiest at this point in the process.
If the aquarium is way out of level, consider moving the entire set-up to another location that offers a level foundation to set the unit up properly.
Check that the dry aquarium is level at the top and along the sides (plumb). You need to ensure that the unit is level in both of these planes to ensure there is no slope from front to back or from side to side.
Use wood or plastic shims under the aquarium stand legs if the angle is slight, or in extreme cases, the slope is too much to shim, move the tank and stand to a place where the floor is not warped or can sag enough to cause problems in the future.
The tank normally has some type of frame where the water is kept slightly above to cut off the top of the water. It should be level when filled to prevent sloping, either laterally from front to back.
If the floor is not level, you will identify it at this point.
If the problem is minimal, you should be able to shim it to the true level. If the problem is great, it would probably be best to move the tank to an alternate location with a more level foundation.
Remember this is the stage where you ensure that the framing of the living picture you will create is a picture of perfection. This is the process that ensures the top of the water is entirely behind the frame of the aquarium so it is very important to level the aquarium properly.
Accessories for DIY and replacements
Wood
Oakwood, known for its beauty and being a hard strong wood, would make for a great option to build your own aquarium stand. It is more expensive than other hardwoods but will make your aquarium look very professional.
Steel
If you have welding skills, then steel is another super sturdy material to build an aquarium stand out of. You would want to choose stainless steel; it will hold up to moisture much better than other mild steels.
Cinder blocks
Using cinder blocks, or concrete blocks, like the feet and legs of the aquarium stand is a cheap and sturdy way to get your aquarium off the floor. You would want to also lay a couple of pieces of plywood across the top to make sure the aquarium is fully supported.
Necessary tools
Other tools that would be necessary to build your own wood aquarium stand would be a circular saw, a drill, a miter saw, a nail gun, and measuring tape.
Paint
Choosing a paint color really comes down to personal preference. You could do a rustic wood finish, all black, or white, it's really up to you and what you want. Just make sure that the paint will stand up to moisture and normal wear and tear.
Aquarium stand skirt
An aquarium stand skirt can be an easy and quick fix to cover an old beat-up aquarium stand or old piece of furniture. It is simply a nice piece of fabric that can be sown to fit snuggly around your stand, hiding all equipment and other aquarium supplies.
Frequently Asked Questions
What to put under the aquarium stand?
If you are worried that the floor you are placing the aquarium stand on is not level, the best thing would be to use leveling shims. This allows you to level up the side that needs it but will also be sturdy enough to hold the aquarium long term. These can easily be found at your local hardware store.
Can a TV stand or bookshelf hold a fish tank?
It depends on the size of the aquarium. If you are working with small systems (under 10 gallons), then a tv stand or small bookshelf top would work just fine. Keep in mind that standard furniture simply is not manufactured to be solid enough to hold a filled aquarium for its lifetime.
Wheels under a fish tank stand – smart or stupid?
Wheels under an aquarium can be too risky of tipping, or if on uneven ground, sliding and causing a disaster. They may seem convenient for maintenance but will be more hassle than they are worth.