Best CO2 regulators & accessories with setup guide for planted tanks
Updated: January 11, 2021 - By: Lucas - Categories: Planted aquarium
Aquarium CO2 (carbon dioxide) is used by plants during photosynthesis to build new cells for plant growth. Most freshwater aquatic plants rely entirely on the carbon dioxide that is dissolved in the water unless they manage to get leaves above the surface which will allow them to use the carbon dioxide in the air.
The things that can restrict plant growth in your planted aquarium are light, carbon dioxide, and nitrate levels. The light is entirely within your control. If you have fish in your tank, the aquarium nitrogen cycle will convert their waste into nitrates which are a natural plant fertilizer, so the only thing that is likely to restrict plant growth is aquarium CO2 levels.
Three ways to supply CO2 for planted aquariums
DIY CO2 system
Estink DIY CO2 Generator Aquarium Plant System Kit
I'll start with the cheapest first. A carbon dioxide bio-system consists of a large soda bottle with a hole cut in the screw top to take a tube. It is then a case of adding yeast, water, and sugar (in small quantities). This will start to ferment and produce carbon dioxide which is delivered to the water via the tube and an air-stone, bubbling up through the water and being dissolved in the process.
This method is cheap and easy. Before you go rushing out spending hard-earned money on an aquarium CO2 system, this method is fun to try first, especially with the easy to care for starter plants.
CO2 tablets
ISTA CO2 Tablet 100 TAB Carbon dioxide
You can get carbon dioxide tablets which are converted into gas in the water allowing carbon dioxide to slowly bubble off the surface.
Pressurized CO2 supply system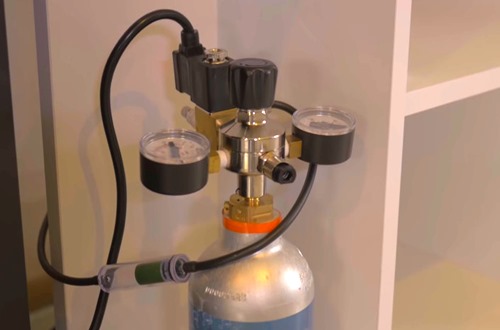 Finally, a carbon dioxide mechanical system delivers carbon dioxide in the same way but uses bottled carbon dioxide and usually uses a gas regulator and needle valve. These are available commercially if you don't want to go the DIY route. This would need to be used in conjunction with a carbon dioxide monitor to ensure that the levels don't get too high and start affecting the pH level.
All of these systems need to set up to turn off during nighttime hours. With the exception of the bio-system this can be done by connecting them to the same timer as the lights so that when the photosynthesis goes into reveres and the plants start producing carbon dioxide, you are not adding to it.
How does a pressurized CO2 supply system work?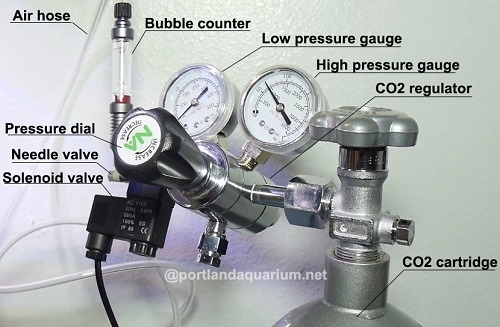 Pressurized CO2 supply system
Understanding exactly how a pressurized CO2 system works can seem confusing at first. It requires a few instruments that, if you are new to planted aquariums, seem really difficult to work with. Once you understand how and why it works, it will all make sense and greatly increase your success in growing aquatic plants.
The first thing to know is that all pressurized CO2 systems require a pressurized CO2 canister. The CO2 is at such high pressure in the canister, turning it into a liquid at the bottom of the canister. To be able to get the CO2 to convert back into a gas and not blow a hole into your wall, you then need to attach a CO2 regulator.
The regulator then reduces the pressure of the CO2 coming out of the tank, converting it back into its gas form, making it safe to release the CO2.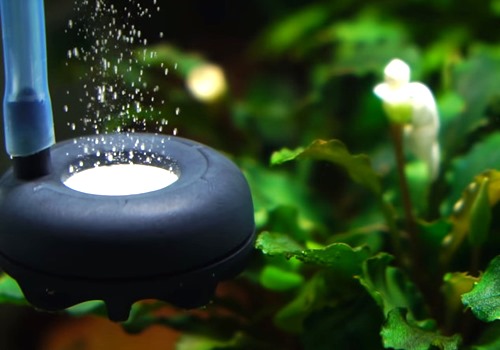 CO2 diffuser in a planted tank
The lower pressure then pushes the CO2 gas through CO2 rated airline tubing to a diffuser inside your aquarium. The diffuser converts the CO2 gas into tiny micro-bubbles. Those micro-bubbles are easily absorbed by the water, helping your plants to photosynthesis.
That is the basics of how a CO2 system works. In between the regulator valve and the diffuser in your aquarium are a couple of important pieces of equipment that will ensure that you are the most successful in adding CO2 to your planted aquarium.
Main CO2 regulator components and accessories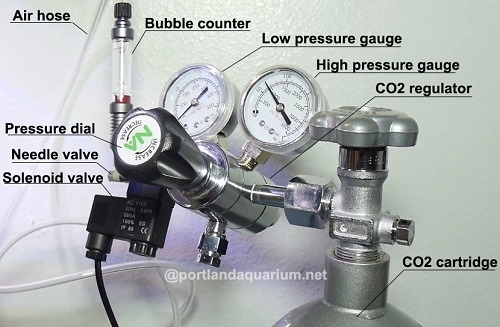 So, you know that you need a pressurized CO2 canister (cartridge), and a regulator to be able to get the CO2 safely from the CO2 cartridge. This section is going to break down all components of a CO2 regulator and how to set it up properly to input the right amount of CO2 into your planted aquarium.
Pressure gauges
The high-pressure gauge indicates the pressure of CO2 gas inside the cartridge. It tells you the amount of remaining CO2 inside the cylinder and when you need to refill/replace it. The pressure dial allows you to lower the pressure, which is presented on the low-pressure gauge (working pressure gauge).
Solenoid Valve
FZONE DC CO2 Solenoid Valve
CO2 should only be added into the aquarium when the lights are on when the plants are photosynthesizing. You can manually open and close the flow valve directly on the top of the CO2 canister, but that can be a lot of work to get the timing and the flow of CO2 just right.
This is where the solenoid valve comes into play. The solenoid is a magnetic device that when plugged into a timer will either allows CO2 gas through when on or none when off. Essentially, it's a shut-off valve that can be controlled by a timer, saving you time and CO2.
Needle Valve
Needle Valve with Bubble Counter for regulator
CO2 Needle Valve for tubing
Needle Valve attachment
2 Way Splitter Regulator Valve
Next in line after the solenoid valve is the needle valve. This valve allows for precise control (fine-tune) of the flow of CO2 into your aquarium. The CO2 regulator is there to control the pressure of CO2 coming out of the canister, whereas the needle valve just controls the flow rate (bubbles per second) of CO2.
Without the needle valve, you would be dumping a lot of CO2 into your aquarium, which would lead to oversaturation and the death of your aquarium inhabitants.
Bubble Counter
Rhinox Aluminum Alloy CO2 Bubble Counter
Bubble counter for tubing
To be able to fine-tune your bubble per second rate, you will want to use a bubble counter. A few regulator manufacturers include a bubble counter with their regulators, that can attach directly after the solenoid.
Use a bubble counter
The bubble counter is a glass tube that you fill with water so you can see, and count the CO2 bubbles. You then use the needle valve to get the bubble per second rate to fit the needs of your aquarium.
A good starting point for your flow rate is one bubble per second for a new planted tank setup.
Diffuser (in-tank and inline)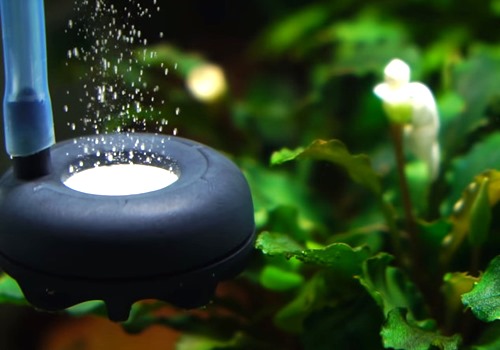 Now that you've reduced the pressure and adjusted the bubble per second rate, the CO2 is then pushed through a diffuser. The diffuser converts the single bubbles of CO2 into tiny micro-bubbles, which are easier for the water to absorb and distribute throughout the aquarium.
There are a couple of different styles of diffusers on the market today. It really comes down to personal preference on which one you choose.
In-tank Diffuser
Aquario Neo Co2 Diffuser, small
JARDLI 2-inch Pollen Glass CO2 Diffuser for 50-80 Gal
If you've used an air pump with an air stone in your aquarium, then you've used an in-tank diffuser. These are made from a highly porous material that breaks the CO2 bubbles into a fine mist. To ensure proper saturation of CO2, make sure to place the diffuser closer to the water return line of your filter. This way the CO2 bubbles are pushed down and give you a more consistent CO2 level throughout your aquarium.
In-line Diffuser (CO2 atomizer)
Aquarium Inline Co2 Atomizer Diffuser
NilocG Aquatics Inline CO2 Atomizer Diffuser
Some aquarists prefer to use an in-line diffuser, or in-line atomizer, to better diffuse the CO2 into their aquarium. It's especially popular with those trying to achieve the sleek, minimalist aquarium look.
It simply attaches to the water return line on your external canister filter and injects the diffused CO2 bubbles directly into your aquarium through the water return flow line.
CO2 Resistant Tubing
AQUATEK CO2-Proof Tubing 16 Feet, 3/16-inch inner diameter
JARDLI CO2-Proof Tubing 16 Feet, 3/16-inch inner diameter
The most important piece of equipment that makes injecting CO2 into your aquarium possible is the tubing. Avoid purchasing silicone tubing, CO2 gas will break the silicone down and cause leakage, wasting your CO2. You will want to purchase good quality CO2 resistant tubing.
The CO2 resistant tubing will connect the needle valve to the bubble counter, then from the bubble counter to the in-line atomizer or in-tank diffuser.
Best CO2 regulator for planted tank reviews
FZONE Aquarium CO2 Regulator Mini-Series V3.0, Triple-Stage

Check on Amazon
The FZONE Regulator Mini-Series V3.0 is a great and versatile triple-stage control (dual-stage regulator with a needle valve stage. The multi-stage design is meant to help keep the pressure stable and helps to avoid an end of tank dump (EoTD).
Multi-stage control
The body of this regulator is made of high purity aluminum with a stainless-steel diaphragm, making it highly dependable and durable.
FZONE Aquarium CO2 Regulator Mini Series V3.0
It comes equipped with an outflow pressure gauge, a pressure adjusting knob, an OTS mini 12v DC solenoid valve, a rotatable needle valve, and a bubble counter with a check valve, preventing water backflow from entering the CO2 canister when it's not pumping CO2 into your aquarium.
The OTS mini 12v DC solenoid is a highly efficient piece of equipment with its low power consumption rate of only 0.4 watts, keeping it cool to the touch when running. It also has a red on/off indicator light, making it easy to see when it is on. The solenoid can be plugged into any timer for easy programming.
Rotatable needle valve to fit on any style of CO2 tank
The rotatable needle valve allows you to swivel the valve 360° to either be horizontal or vertical, allowing the regulator to fit on any style of CO2 tank. This needle valve is made of copper and is easy to adjust to as low of flow as 0.3 bubbles per second.
The outflow working pressure is 0 – 45 psi (pounds per square inch), allowing it to fit any size aquarium.
This regulator also comes with three different fitting adapters, a 5/8″ UNF thread for disposable CO2 cartridges, a CGA320 thread for steel CO2 tanks, and a paintball CO2 canister thread adaptor.
FZONE Aquarium CO2 Paintball Regulator, single-stage

Check on Amazon
The dual-stage FZONE Aquarium CO2 Regulator is designed to fit paintball CO2 tanks only, with no adaptor required. It also comes with a dual gauge, one measuring the pressure inside the tank, and the other measuring the outflow pressure. The pressure is pre-set and not adjustable.
This model also comes equipped with an OTS mini 12v solenoid, a copper needle valve, and a bubble counter with a check valve.
Designed to fit paintball CO2 tanks
Just like the FZONE Regulator Mini-Series V3.0 and is made of highly pure aluminum with a stainless-steel diaphragm making it super durable and long-lasting.
The solenoid is also the same, with a red on/off light and running on only 0.4watts, keeping it cool to the touch and energy-efficient.
FZONE Aquarium CO2 Regulator DC Solenoid Mini, budget option

Check on Amazon
The FZONE Aquarium CO2 Regulator is a single-stage regulator with dual pressure gauges. The output pressure gauge is pre-set to 30-60psi.
It's designed to fit the North American CO2 canisters with the CGA320 fitting only.
It comes equipped with a customized aquatic split-type DC 12v solenoid, with low consumption of 2.5watts, preventing overheating and noise. The solenoid can easily be plugged into a timer (sold separately) for easy CO2 control.
This regulator also has updated O-rings that can withstand temperature from –45 to 90 degrees Fahrenheit and comes with additional replacement O-rings.
With its pre-set output pressure gauge, this regulator has a high precision needle valve and a bubble counter with a check valve that allows you to adjust the outflow rate as low as 1 bubble per 5 seconds.
The FZONE Aquarium CO2 Regulator comes with all the tools needed to make the installation simple and easy.
FZONE Pro Series CO2 Regulator for large planted tanks, dual-stage

Check on Amazon
The FZONE Pro-Series Regulator is suitable for those who are running a large CO2 setup. It has the same dual-stage structure as the Paintball and Mini-Series V3.0 models have, eliminating the end of tank dump that can occur when the tank pressure is almost empty, and avoiding killing off all you inhabitants.
This model also has a safety valve located on the back of the regulator, that will automatically release the pressure when it exceeds 100 psi.
FZONE Pro Series CO2 Regulator
It also comes with dual pressure gauges, measuring the pressure in the tank as well as the outflow pressure. Its adjustable pressure knob can fine-tune the CO2 from 0 – 65psi, making it suitable for larger CO2 setups.
Expandable manifold block
Another unique feature of this regulator is its expandable manifold block with an integrated needle valve and bubble counter. This is a nice feature for those that are adding CO2 to large aquariums and gives you the option of multiple diffusers with separate needle valves and bubble counters.
Just like the other models the high precision needle valve is also made of copper and can be adjusted to as low of a flow rate as 0.3bps. The bubble counters also have built-in check valves, to prevent backflow into the regulator.
The FZONE Pro-Series Regulator comes equipped with a DC 12v solenoid, that has a low energy usage of 2.5 watts, keeping it nice and cool when running. This solenoid is also compatible with an automatic timer.
This regulator is compatible with CGA320 fittings, or American standard CO2 tanks only. It's easy to install and comes with all the installation tools needed.
Fluval Mini Pressurized CO2 Kit for nano planted tanks

Check on Amazon
The Fluval Mini Pressurized CO2 kit is designed to fit nano aquariums of 15 gallons or less.
It comes equipped with a regulator valve with an adjustable flow knob that only fits Fluval's 20g disposable CO2 cartridges. It also comes with tubing, a bracket to hang the cartridge on the side of the aquarium, and an internal ceramic CO2 diffuser.
This CO2 kit is a very rudimentary design and is not compatible with a solenoid valve, preventing it from being plugged into a timer.
This kit also only comes with one 20g CO2 cartridge. Replacements can be purchased in a three-pack.
Basic AQUA TEK CO2 Regulator with solenoid

Check on Amazon
The Basic AQUA TEK CO2 Regulator is exactly what it says it is, a basic regulator. This regulator is simple in design with a dual gauge setup, and a COOL-TOUCH solenoid, as well as a precision needle valve.
This regulator is made from brass, ensuring that its durable, dependable, and long-lasting.
It also comes with a free in-line bubble counter with an integrated check valve.
Other CO2 accessories for planted aquariums
CO2 Cylinder Canisters
5lb CO2 Tank Aluminum Cylinder with CGA320 Valve
Aluminum CO2 Paintball Tank
The left CO2 canister can hold up to 5 pounds of CO2 gas at 1800 psi and comes equipped with a CGA320 valve fitting. The right CO2 canister holds 20oz of CO2 gas and comes with a standard paintball fitting. These need to be filled prior to use.
You can also choose Fluval mini pressurized CO2 cartridges if you have only a nano planted tank to care for. These are pre-filled, disposable, and very convenient to use. You should ensure your regulator supports disposable cartridges.
Timer for solenoid valve
BN-LINK 7 Day Heavy Duty Digital Programmable Timer
This dual-outlet digital timer allows you to program up to 7 days of different on/off settings. The outlets are controlled simultaneously, allowing you to link your lighting and CO2 injection. It also has 8 pre-programmed settings.
BN-LINK Compact Outdoor Mechanical Timer
This waterproof dual-outlet timer has 48, 15-minute interval time settings in a 24-hour period. On the timer setting it will repeat the set on/off time every day. It also has an "always-on" setting and comes with a waterproof cover to protect it from moisture.
Hydra Aquatic CO2 Paintball Adapter
Hydra Aquatic CO2 Paintball Adapter
This simple adapter allows you to use a CGA320 capable regulator with any paintball CO2 tank.
CO2 check valve
CO2 check valve
This check valve prevents the backflow from the aquarium to the CO2 system that can damage the regulator.
Milwaukee Instruments 716690 pH Controller
Milwaukee Instruments 716690 pH Controller
If you are an advanced aquarist looking to get a more accurate reading of pH and not use a drop checker or a reagent-based test kit, then this controller would do the job.
Once calibrated to a low-range pH reading, you can manually set the desired range of pH and the controller will send an alarm signal to the plugged-in solenoid to either turn the CO2 on or off.
How much CO2 for planted tanks?
There are a few things to understand when figuring out how much CO2 your planted aquarium needs. CO2 has a direct relationship with dissolved oxygen levels in your aquarium, as well as pH and KH (carbonate hardness or alkalinity).
It should also be mentioned that CO2 is highly toxic in large amounts to fish and invertebrates. A CO2 level of 30ppm (parts per million) is optimal for plant growth but still safe for most fish and invertebrates.
The toxicity threshold of CO2 depends on the amount of dissolved oxygen (O2) levels. In aquariums with low O2 levels, fish are more affected by high CO2 levels. Whereas in aquariums with higher O2 levels, fish have a higher threshold for CO2 toxicity.
How to measuring CO2 in Your Aquarium?
CO2 dissolved in water creates carbonic acid, increasing the carbonate hardness of the water (KH) and affectively decreasing the water's pH level. There is a relationship between the pH, KH, and CO2 concentration in an aquarium. People use this to measure the CO2 concentration in the aquarium.
H2O (water) + CO2 (free gas) <-> HCO3- (carbonate hardness KH) + H+ (change pH)
There are two ways to measure the CO2 concentration in a planted aquarium:
1. Using pH, KH test kits, and a CO2 chart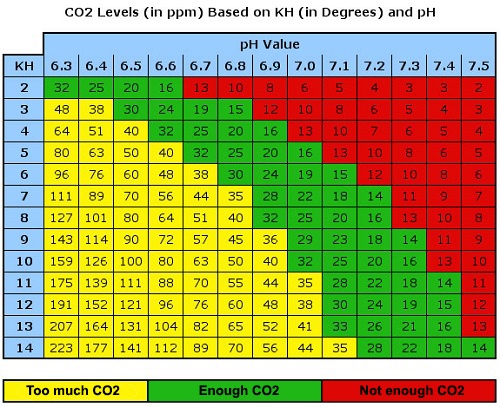 The easiest way to determine the CO2 in your aquarium is by measuring the pH and KH of your water daily and using the previous chart to figure out the CO2 concentration.
Most aquarists use a reagent-based test kit for measuring low-range pH and KH. These are simple to use, just fill the provided test tube with aquarium water, add the appropriate number of drops of the liquid reagent solution. The water will then change color, ranging from dark blue to yellow, allowing you to compare that color to the color chart that is given, determining the pH and KH.
pH and KH testing kits can be hard to read and can leave some room for error. If you misread the pH or KH incorrectly, even as little as 0.2 pH or 0.5 KH, can result in either overdosing or underdosing the CO2.
2. Using a CO2 Drop Checker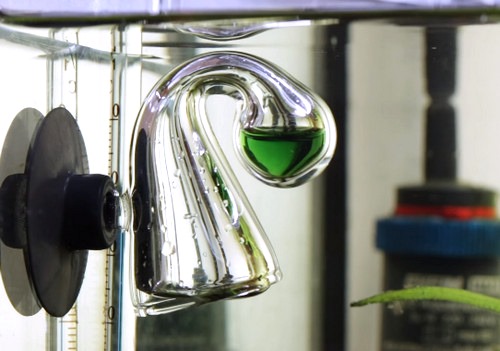 Using the standard reagent pH and KH test kits on a daily can be time-consuming and tedious. CO2 drop checkers are a much simpler way to measure the CO2 in your aquarium.
A drop checker is a glass tube that is filled with a fixed KH solution (usually 4 dKH), which changes its colors when the pH changes. It is placed inside the aquarium, in an easy-to-see location and away from the water return line from the filter.
NilocG Aquatics Glass CO2 Drop Checker
As the surrounding CO2 gas (free gas in the previous chemical formula) goes into the glass checker and contacts with the reagent, it changes color, giving you a constant reading of your pH. Because the KH is constantly 4, with known pH, you can estimate the CO2 concentration based on the color reading chart coming with the product.
To achieve the desired 30ppm of CO2, you will want the drop checker to be lime green. If the color is blue, then the CO2 is around 20ppm, not meet the optimal threshold for planted tanks. If it is yellow, then the CO2 is around 40ppm, and could potentially be lethal to your aquarium inhabitants.
Knowing the concentration of CO2 in your aquarium, you then can use the needle valve and bubble counter to increase or decrease the bubble per second rate to achieve the desired color in the drop checker.
Does your tank need a CO2 system?
Before you hurry out and buy an aquarium CO2 system for your freshwater aquarium, make sure that you need one. Your fish will produce carbon dioxide as they breathe, breathing in the dissolved oxygen and breathing out dissolved carbon dioxide.
A lot of planted tanks with fish get by quite happily without additional carbon dioxide so it might be worth trying the tank without first to see how it goes. If your plants are growing the way you want then why interfere.
Remember that if you are aerating your tank you are adding aquarium CO2 as well as O2 (oxygen). The other thing to remember is that adding carbon dioxide is going to change the pH level in your tank so don't overdo it.
However, if you want to achieve the kind of luxuriant plant growth that you see on aquarium magazines then maybe added carbon dioxide is the way to go.
Frequently asked questions
How does supplying CO2 help to control algae?
Partnered with proper lighting cycles, quality biological filtration, and adequate plant nutrients, CO2 allows the aquatic plants to photosynthesis properly and will simply out-compete the algae for food.
How to refill aquarium CO2 canisters?
Depending on what size CO2 tank you purchase, it may or may not be able to be refilled. Most local paintball supply stores can refill the paintball CO2 tanks. For the larger 5lb or 10lb CO2 tanks, you will need to find a certified CO2 refilling provider.
How long does aquarium CO2 last?
It depends on the size of the CO2 tank, as well as the size of the aquarium you have. If you have a solenoid and timer on a 5lb tank, it could last you anywhere from 5 weeks to 3 months, depending on the size and CO2 demand.
Aquarium with and without CO2?
If you are not injecting CO2 into your aquarium, there is still residual carbon being created from decomposing organic matter. But if you are wanting a heavily planted aquarium with lots of high light plants, you will not be successful without injecting CO2.
How do aquarium carpet plants do without CO2?
In high light and low CO2 environments, carpet plants will struggle to survive. But by reducing the lighting intensity, providing good quality soil with proper fertilizers, and a lot of surface agitation there is potential for good carpeting plant growth.
How many bubbles per second of CO2 aquarium?
A good place to start is 1bps. Using a drop checker, you can gauge the CO2 saturation in your aquarium and adjust accordingly with less or more bubbles per second (bps)
How many hours do you inject CO2 into your aquarium?
You should only be injecting CO2 during the hours that the light is on. Typically, most aquarists will run their lights for about 8 to 12 hours. Even then it can really depend on the plants you're growing and their requirements to grow. It will take some daily adjusting to get it just right for your planted aquarium.