Best fish tank heater reviews & guides for buying and using
Updated: November 24, 2020 - By: Lucas - Categories: Equipment
Aquarium heaters are used to ensure the temperature is maintained at a steady and proper level for tropical fish. This equipment is extremely important for the fish since they are coldblooded and maintain their body temperature based on surrounding conditions. Wrong temperatures can stress the fish that leads to a significant decrease in their disease-resistant ability. In this guide, you will learn what to look for when buying a new aquarium heater and a review of some of the best options in the market.
How does aquarium heaters work?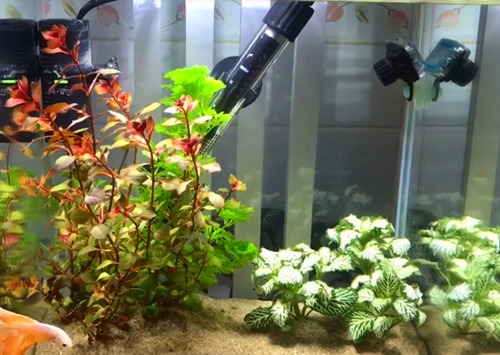 Most aquarium heaters are operated using a temperature control thermostat to sense ambient temperatures and automatically open or close the electrical circuit that heats the inside heating core. In this way, the heater maintains the aquarium water at the desired temperature with very little fluctuation.
How do I know if my aquarium heater is working?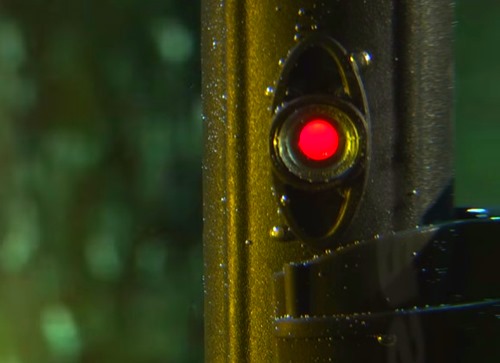 Most heaters have an LED light indicator integrated into the unit that burns whenever the heater is actually operating.
Depending on the actual room temperature and how well the system is closed down (a strong reason to have a complete light canopy that prevents both evaporation and heat loss) the heater may run all the time or very little.
Types of aquarium heaters
When buying an aquarium heater, the first decision you need to make is on the type of aquarium heater you're going to buy. The type you choose can depend on your budget, positioning, and the size of your tank.
Glass heaters
Eheim Jager Aquarium Thermostat Heater
Glass heaters are the most common and budget-friendly option in the market. They come in different lengths and wattages to suit different tank sizes. This type of heater is best known for how easy it is to set up and operate. But, it can be risky to use when the glass is made from poor quality glass or when the heater is operated out of the water.
Titanium heaters
Hygger Saltwater Tank Titanium Tube Heater with Controller
These are newer, higher quality additions to the market. You might have to dig deeper into your pockets for this type of heaters, but it's worth it, considering you don't have to worry about any breakage or shattering.
Most titanium heaters also have separate controls. That saves you from wetting your hands every time you want to adjust the temperature in your aquarium. You also don't have to worry about the heater exploding if you forget to turn it off during a water change.
In-line external heaters
In-line external heater
For aquarists concerned about appearance and the unobstructed view of their aquarium, in-line heaters are the best option. These heaters are attached to the filtration of your aquarium. The most basic type features a pipe with a heating element that heats the water as it flows back into the aquarium.
Besides staying clear from view, in-line heaters are incredibly safe for you and your fish and provide precise and even heating because the water passing through the heater circulates inside the tank and distributes the heat.
If you tend to forget to switch off your heater during a water change, an in-line heater could be the ideal option for you. Although it is safer to switch the heater off during the change, you don't have to worry about it if you forget.
On the downside, in-line heaters are more expensive, costing up to twice as much as a standard glass heater. By adding a piece into your in-flow line, you increase the chances of a leak. But you can mitigate this by strategically choosing the location of the heater.
Battery-powered heaters
Tropical fish are sensitive to sudden temperature changes. Having a battery-powered backup heater can come in handy in case of a power loss. This heater is also used when shipping fish to keep them warm until they get to their new home.
Unluckily, because heaters require a lot of power, it is hard to find battery-powered options available on the market. As an alternative, you could use a battery backup.
Undergravel heaters (substrate heater)
Undergravel heaters are a good alternative to in-line heaters in terms of discreteness but have additional benefits as well. These heaters distribute heat throughout the tank more evenly because of their unique placing. The warmth they produce also helps to attract nutrients to the roots of the plants encouraging vibrant growth and improved algae management.
Because they are fairly complicated to set up and maintain, undergravel heaters are rarely used these days and completely replaced by glass and titanium heaters.
How many watts per gallon for aquarium heaters?
It is important to ensure you select the correct aquarium heater for the size of your tank. The rule of thumb is for increasing up to 10°F above normal room temperatures (68-72°F – 20-22°C) you will need 1 watt of heating per liter of aquarium water (or 4 watts per gallon).
For example, a 20-gallon aquarium (75 liters) will need around 80 watts of heating power, and a 75-100 watt heater is a perfect option.
Following is the table of wattages for different tank volumes.
| | |
| --- | --- |
| Tank size | Recommended heater |
| 1-3 gallon Betta fish tanks | 10-15 watt heater |
| 3-5 gallon small tropical fish | 12-25 watt heater |
| 10-15 gallons | 50-watt |
| 20 gallons | 100-watt |
| 25-30 gallons | 100-150 watt |
| 40 gallons | 150-watt |
| 50-55 gallons | a 200-watt or two 100-watt |
| 60 gallons | a 250-watt or two 150-watt |
| 75 gallons | a 300-watt or two 150-watt |
| 100 gallons | a 500-watt or two 300-watt |
| 200 gallons | an 800-watt or two (a 500W and a 300W) |
Best aquarium heaters
After settling on the ideal type of aquarium heater, the next step is selecting from the thousands of options available for your preferred type of heater. We took the time to find some of the best options for different types of aquarium heaters to save you time and ensure you get the right heater on your first try.
| Model | Our rating | Wattage | For tanks | Available sizes | Temperature range | Features |
| --- | --- | --- | --- | --- | --- | --- |
| | Aqueon Aquatic Flat Heater | 5 watts | up to 2.5 gallons | 5/7.5/15W | preset for tropical fish, can't set | |
| | FREESEA Aquarium Heater | 25 Watt | 1 – 5 gallons, Betta, tropical fish | | 63-95°F, adjustable | light indicator, include a digital thermometer |
| | Fluval M Submersible Heater | 100 watt | up to 30 Gal | 50-200W | 66-86°F, adjustable | light indicator, blends into the aquarium environment |
| | Aqueon Pro Submersible | 100 Watt | 20-30 Gal | 50/100W | 68-88°F, ±1°F, adjustable | LED light indicator |
| | Orlushy Submersible Aquarium Heater | 150W | 30 – 50Gal | 100-500W | 68-89°F, ±1°F, adjustable | LED light indicator, include a digital thermometer |
| | Hygger Saltwater Tank Titanium Tube Heater with Controller | 200w | 20 – 45 gallons | 50-500W | 32-104°F, ±0.5°C error, adjustable | LED digital display controller, thermometer, Celsius or Fahrenheit reading |
| | Eheim Jager Aquarium Thermostat Heater | 250 Watts | 55-60 gallons | 75-300W | 64.4-93.2°F (18-34°C), adjustable | operation light, recalibration, running-fry prevention |
| | Orlushy Submersible Aquarium Heater | 300W | 50 – 80 Gal | 100-500W | 68-89°F, ±1°F, adjustable | LED light indicator, include a digital thermometer |
| | UPETTOOLS Submersible Aquarium Heater | 500W | 60 – 120 gallons | | 60-90°F (15-32°C), ±2°F, adjustable | external digital controller, built-in thermometer, safety shut-off |
| | Finnex Deluxe Titanium Tube Heater | 800 Watts | 140 – 265 gallons | 300/500/800W | 0-99°F, ±2°F, adjustable | external controller |
Aquarium heater reviews
Aqueon Aquatic flat heater 5-watt
Wattage: 5 watts
For tanks: up to 2.5 gallons
Available sizes: 5/7.5/15W
Temperature range: preset for tropical fish, can't set
Features:
For small Betta fish aquariums of up to 2.5 gallons, the Aqueon Aquatic flat heater is the best fit. It's a fully submersible heater with an ultra-thin design. It features shatterproof construction and works for both glass and acrylic tanks.
It is intended for common home aquariums with ambient temperatures around 68-72°F (20-22°C). It automatically heats the water and maintains the temperatures in a preset range for tropical fish. This can't be adjusted, so ensuring that the room temperatures do not fall too low.
Installation of the heater is simple and straightforward using the suction cups that it comes with to position it horizontally or vertically, depending on your setup.
FREESEA aquarium heater 25-watt
Wattage: 25 Watt
For tanks: 1 – 5 gallons, Betta, tropical fish
Available sizes:
Temperature range: 63-95°F, adjustable
Features: light indicator, include a digital thermometer
This is a glass heater with an excellent range of features perfect for aquariums of up to 5 gallons. Among these impressive features is an automatic constant temperature function that keeps the water in your tank within the set temperature.
For easy and accurate temperature monitoring, the heater comes with a diving thermometer. It's also worth mentioning the safety shutoff and overheating protection features, which are both valuable to your fish's safety.  With a 12-month warranty, this promises to give excellent value for money.
Fluval M Submersible Heater 100-watt
Wattage: 100 watt
For tanks: up to 30 Gal
Available sizes: 50-200W
Temperature range: 66-86°F, adjustable
Features: light indicator, blends into the aquarium environment
The Fluval M Submersible heater has a unique range of features. These include a borosilicate glass with built-in reflective technology that mirrors the surrounding. It allows the heater to blend in with its environment.
It has a computer-calibrated thermostat for accurate temperature monitoring and an easy to adjust temperature control with a ceramic heat stick for fast and efficient heat distribution. Despite its slim build, the heater is rated at 100W and works for tanks of up to 30 gallons. There are also other available versions from 50-200W for choice.
Aqueon Pro Submersible 100-watt
Wattage: 100 Watt
For tanks: 20-30 Gal
Available sizes: 50/100W
Temperature range: 68-88°F, ±1°F, adjustable
Features: LED light indicator
The Aqueon Pro Submersible heater is designed for 20-30 gallon tanks. It is rated 100 watts with an accurate electronic thermostat to keep the temperature within a degree of the required parameters. The exterior of the heater is made from shatterproof, almost indestructible plastic, so you don't have to worry about condensation or explosions.
Additional safety features include an auto-shutoff feature and indicator lights, so it is easy to tell when the heater is working. Given how short-lived most heaters in the market are, it's outstanding that this one comes with a limited lifetime warranty.
Orlushy submersible aquarium heater 150W
Wattage: 150W
For tanks: 30 – 50 Gal
Available sizes: 100-500W
Temperature range: 68-89°F, ±1°F, adjustable
Features: LED light indicator, include a digital thermometer
The best aquarium heaters aren't always the most expensive. There are some excellent budget-friendly options that you should consider. The Orlushy submersible aquarium heater is one of them.
This high-quality heater has a 2mm, explosion-proof quartz glass construction that ensures efficient heat distribution. It offers adjustable temperature that you can adjust in small intervals. For easy monitoring, the heater comes with a digital thermometer.
If you have a 30 to 50-gallon tank, this option will work perfectly for you. Many other sizes from 100-500W are also available for different tank sizes. They work for both fresh- or salt-water.
Hygger Saltwater Tank Titanium Tube Heater with Controller
Wattage: 200w
For tanks: 20 – 45 gallons, fresh- or salt-water
Available sizes: 50-500W
Temperature range: 32-104°F, ±0.5°C error, adjustable
Features: LED digital display controller, thermometer, Celsius or Fahrenheit reading
Titanium heaters are growing in popularity, especially among saltwater aquariums. Titanium aquarium heaters are known for their hardiness and resistance to corrosion, and this one is not any different. And it is also shatterproof.
Hygger Titanium Tube Heater with Controller
The external controller with LCD displaying current and set temperatures and a thermometer are among the features that set this aquarium heater apart from the rest. It is very easy to set up, just ensure that you place the thermometer probe and titanium heating tube at different ends of the tank. This ensures accurate temperature readings.
Like most of the other options we have reviewed, this one also comes with an auto-shutoff feature. Its pinpoint accurate temperature heats the water to within -/+ 0.5°C of the set temperature.
It's an excellent choice for both tropical and saltwater aquariums with a size of between 20 to 45 gallons. Many different options from 50 to 500 watts are also available.
Eheim Jager TruTemp Submersible Heater 250-watt
Wattage: 250 Watts
For tanks: 55-60 gallons
Available sizes: 75-300W
Temperature range: 64.4-93.2°F (18-34°C), adjustable
Features: operation light, running-fry prevention
The Eheim Jager spots a simple and easy-to-use design. It comes with many valuable features that make temperature management in your 55 to 60-gallon tank easy and safe.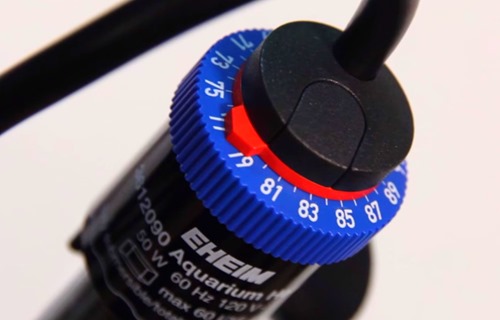 The Eheim Jager features a TruTemp dial with small intervals on its top for easy temperature adjustment. The temperature range is broad enough to meet the needs of most types of fish people can keep in home aquariums. Unlike other heaters, it also includes a readjustment ring for you to recalibrate the heater for better accuracy after using a long period.
It is fitted with laboratory-grade shatterproof and shock resistant glass for longevity. For aquarists that often forget to turn off the heater during water changes, the Eheim Jager heater has a thermo-safety feature that turns off the heater when the water levels get too low. This prevents running dry and glass breakage.
Finally, you can benefit from the easy monitoring provided by a light indicator placed on the side of the heater.
Orlushy Submersible 300-watt aquarium heater
Wattage: 300W
For tanks: 50 – 80 Gal
Available sizes: 100-500W
Temperature range: 68-89°F, ±1°F, adjustable
Features: LED light indicator, include a digital thermometer
For aquarists with a sizeable tank in the range of 50 to 80 gallons looking for a quality, high wattage heater, the Orlushy submersible aquarium heater fits the bill.
The heater comes with the standard features of every decent heater. These include a temperature control knob that you can adjust in small intervals, a reliable thermostat that eases the task of keeping a constant temperature, auto shut off to prevent overheating.
The heater is made from explosion-proof, 2mm thickened quartz glass, ensuring long life and the safety of your fish. It comes with a digital thermometer for temperature control and you don't need to buy one.
UPETTOOLS Submersible 500-watt aquarium heater
Wattage: 500W
For tanks: 60 – 120 gallons
Available sizes:
Temperature range: 60-90°F (15-32°C), ±2°F, adjustable
Features: external digital controller, built-in thermometer, safety shut-off
The Uppettools submersible aquarium heater has so many wonderful features you can't skip. It comes with a submersible glass heating tube surrounded by a plastic cover and an external controller with a digital LED display.
On the right side of the controller, there is a button for you to set your desired temperature. The heater is built with an intelligent thermometer module that monitors the tank's temperature and shows it on the digital display. So, you will see both the set and current temperatures on the digital-display controller.
Moreover, its dual CPU safety design automatically shuts off the heater when you pull it out of the water. It also has an overheat protection that turns the heater off when the water reaches the set temperature.
Finnex Deluxe Titanium Tube Heater 800-watt
Wattage: 800 Watts
For tanks: 140 – 265 gallons
Available sizes: 300/500/800W
Temperature range: 0-99°F, ±2°F, adjustable
Features: external controller
Finding a heater for a 265-gallon aquarium is not easy. Finnex has one that is not only up to the task but has all the necessary features to ensure safety for you and the fish.
The Finnex Deluxe Titanium tube heater features a corrosion-resistant and explosion-proof tube that is virtually unbreakable! It is safe to use in both freshwater or saltwater aquariums.
The heater comes with an external controller for easy temperature adjustments and control. This controller can work with any heating tube with a 3-prong connector whether it's the same brand or not.
If you have some large fish in the aquarium, you'll be happy to know that the heater comes with a protective guard to keep the fish safe.
How to install an aquarium heater?
Most aquarium heaters today are submersible and placed entirely under the water for their service life. When the aquarium is full, place the heater into position. It is important to remember that they do need time to acclimate to the ambient water temperature before plugging in.
Vertical or horizontal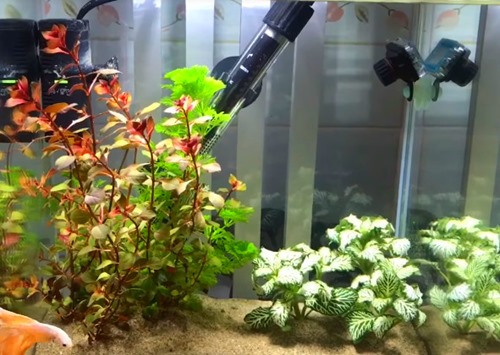 One trick we have found is that the heaters seem to be more accurate if they are placed on a slight diagonal rather than strictly vertical. Why? I really have no idea. But straight up is less accurate than a ten-degree angle with the top off the center of the heater element.
Do not place a heater horizontally as well. This is the orientation where the heater is normally at its most inaccurate. This prohibition is usually shown on the packaging of heaters that are affected by this location.
Where to place the heater?
Do not place any standard aquarium heaters in a place where it is touched by anything. The heater tube must be fully exposed to the water around it. This prevents hotspots from building up and weakening the glass where a rock or ornament prevents the even distribution of heat off the glass. You should NOT bury the heater into the gravel as well.
Any wrong placements that disrupt the thermal conduction of the heater will cause the uneven distribution of heat and the tube will burst.
Aquarium heaters should be placed as directly in the filter flow as possible. This allows the heat to be pulled from the heater tube and evenly distributed around the tank as a whole. Proper current will prevent thermal layering from occurring. This is where inadequate currents are generated in the tank so some spots are left stagnant.
Ensure that you have no problem with the tank leakages and the water level is lowered to the point where the heater element may become exposed.
How to set the temperature?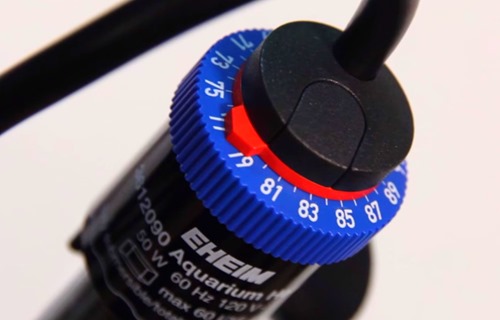 Most standard aquarium heaters often simply have a knob to adjust and the unit is set. If you have tropical fish, select one in the range from 75 to 80°F (24-27 °C) based on the tank species. 78°F is ideal for most tropical tanks.
After setting the desired temperature, place it in the filled aquarium for about 30 minutes before plugging it in. This gives the new heater and its thermostat ample time to adjust to the surrounding water temperature.
You can adjust the temperature setting once power is applied. There is no problem with this, but ensure NOT to take the heater out of the water when it is working. The sudden change between the warmed water and room temperature can destroy it.
Keep in mind that heaters deal with very high temperatures and are designed only to operate underwater. They should never have a hot element exposed to the air or they will break. This is the reason heater manufacturers will not warranty glass breakage.
Daily temperature verification with a thermometer
Zacro LCD Digital aquarium thermometer
Make sure the temperature you are trying to get is the one you get. Never trust the heater calibration, you should always have a reliable independent thermometer to verify the level in the tank. Verify the reading once a day as part of your regular aquarium maintenance.
I always put my hand on the side of the tank when I verify the temperature. Over time I have come to know the temperature "by hand". I usually know if there is something wrong before I even look at the thermometer.
How to safely remove a heater?
It doesn't happen often, but sometimes aquarium heaters must be removed.
The heater elements on most standard heaters are ceramic, they are meant to retain the heat for an extended period of time. If the heater has been running, it should be unplugged for at least a half-hour before it is allowed to have the element area at the bottom of the heater exposed to the atmosphere.
The heat radiation characteristics are radically different between the water where it was designed to operate and the air. Even a warm heater element will most likely crack the glass.
The real problem is that it may not do it right away, it may just weaken the tube somewhat. I can't tell you how often I have heard of a heater tube simply exploding in a tank "for no reason".
The reason was that the warm element was exposed to the air and it weakened the tube. Over time and regular use, that tube strength deteriorates and finally "explodes" without any warning.
Placing a hot tube into the water is a great way to break the glass. It is not so difficult to do.
Treat a heater with great respect always give it ample time to cool down if it has been running. Don't just plug it in to see if will heat up in your hand then put it back in a few minutes because the element feels cool.
Even if the heater was on for an extremely brief period under power for a few seconds, don't play with fire. Give it a half hour or more after unplugging before it is suddenly exposed to water or air.
Aquarium heater accessories
You can improve the performance and experience of your new heater by investing in a few aquarium heater accessories.
Aquarium accessories are versatile with various functions. Your choice depends on the function you have in mind.
Aquarium heater guard
This guard fits most fish tank heaters
Also called an aquarium heater cover or mat, this is one of the essential accessories for your aquarium heater. It's even more critical if you have a big tank that requires a high-powered heater.
The aquarium guard covers the heating surface of the aquarium, ensuring that fish don't get burnt in case they touch or get trapped behind the heater. An aquarium guard can also protect you from accidentally touching the heater while conducting maintenance or a water change. The guard is often a plastic cover attached over the heating area of the heater.
Suction cups
Suction cups for aquarium heaters
Suction cups are a vital part of setting up an aquarium, and they feature prominently in aquarium heaters. The role of suction cups is solely installing and keeping the heater in place.
Using the suction cups, you can install most submersible heaters horizontally or vertically. The cups are also used in various other functions like holding filters, hoses, and decorations in place.
Magnetic suction cups
Suction cups are affordable and easy to use. But every time you want to reposition the heater, you have to dip your hands into the aquarium not to mention, ordinary suction cups get damaged easily.
Magnetic suction cups are designed to remedy these challenges. Just like ordinary suction cups, these are easy to use, and you can reposition the heater without getting your hands wet. Magnetic suction cups also offer more longevity and better value for money.
Aquarium heater controller
Inkbird WiFi ITC-308 Digital Temperature Controller
If you're concerned about the quality of your heater controller, or you've purchased a heater without adjustable temperature, adding an aquarium heater controller can bring you peace of mind and make it easier to provide your fish with the right temperature.
What's more, with a heater controller, you don't have to check your aquarium water temperature every day. The controller will regulate the water according to your set parameters automatically. Most importantly, it will prevent overheating, which can damage the heater and kill the fish.
Common problems and solutions
Now that you have your new aquarium heater picked out and ready to install, it's essential to keep in mind a few common problems you might experience and possible solutions that will ensure both you and your fish make the most out of the new heater.
Aquarium heater overheating
Several factors could lead to overheating. It is possible the heater is too powerful for your tank. In this case, you need to get an alternative heater with a lower power rating. If that's not the case, you should also check to ensure the adjustable heat setting is within the right temperature and check the thermometer to ensure it's working correctly.
If none of these is causing the problem, it's possible your heater is malfunctioning and needs to be replaced. Make sure you unplug and give it time to cool off before removing it from the water.
Aquarium heater failure and repair
Some common heater failures include overheating, under heating, or no heating at all. If the thermometer seems to be working fine, but the heater is still acting up, there's not much you can do. The thermostat could have failed.
If you suspect the thermometer could be the problem, you can purchase a controller that will pass the right information to the heater and avoid further problems.
In most cases, it's best to replace the heater if it fails. While it's possible to repair the heater, it's not worth the risk it poses to your fish. What's more, aquarium heaters are water-tight. Taking apart the heater can compromise the seals allowing water to sip into the heater, causing it to short-circuit.
Aquarium heater light is on, but the heater is not working
The reason why your heater is not working despite showing the indicator light is on is usually a loose or disconnected contact. Unfortunately, there's not much you can do about that. If the heater is still under warranty, you can send it back to the manufacturer to get a replacement.
The heater is making a hissing or a clicking noise
Heaters shouldn't make a sound. However, some designs make a clicking noise when the thermostat kicks in. When the clicking sound is continuous or happens at any other time, your heater could be failing.
The hissing sound points to a more serious problem. Hissing can be caused by failed seals that let water sip into the heating chamber. When the cold water touches the hot element, it produces a hissing sound as it evaporates.
In cases where the leaking is significant, you can hear a knocking or popping sound, which is water inside the heater boiling. In all these cases, you should have the heater replaced immediately.
Aquarium heater keeps falling off
This is one of the simplest but most common aquarium heater problems to fix. The suction cups are simply worn out and can't hold the weight of the heater. The fix is as simple as buying new suction cups. Alternatively, you can opt for magnetic suction cups, which last longer.
Frequently asked questions
Q: Will an aquarium heater melt plastic?
A: When positioned properly, heaters don't pose any risk to plastic, especially your acrylic tank. But, if the heater is resting directly on the tank, it could burn it. It's important to make sure the heater is not resting on the sides of the aquarium or plastic plants and decorations.
Q: How do you calibrate an aquarium heater?
A: Calibrating an aquarium heater depends on the adjustable temperature mechanism in your aquarium heater. Most have a knob at the top or a ring with numbers indicating the corresponding temperature in degrees. In this mechanism, simply turn the knob to your desired heat setting.
For digital options, set the maximum and minimum range on the temperature control console. It's best to do this when the heater is placed inside the water-filled aquarium. Use a thermometer to check the temperature after a while to be sure the heater is working correctly.
Q: Can an aquarium heater burn fish and plants?
A: It is rare, but it happens. That is why you should install an aquarium guard. Also, ensure the placement of the heater is at a safe distance from plants and décor.
Q: Can the aquarium heater touch the glass?
A: You should always take caution when setting up your heater to ensure it doesn't touch the aquarium glass. Equally, the heater should not touch the gravel (unless it's the under-gravel heater) or an ornament inside the tank. This ensures proper heat distribution and prevents damage to the décor or the heater itself.
Q: How to hide the aquarium heater
A: The best way to hide the aquarium heater is to have it inside the sump. You can also hide the heater behind backgrounds, rockwork, or large décor.
Q: Is an aquarium heater necessary for a flowerhorn?
A: Flowerhorns require a temperature of at least 80°F, which means it is necessary to have an aquarium heater to keep flowerhorns.
Q: What is the best aquarium heater for Vivarium?
A: Submersible aquarium heaters are ideal for a vivarium. But you can also use a variety of other options like heat pads, radiant heat lamps, or a heater cable.
Q: What is the best saltwater aquarium heater?
A: Most heaters will work in both freshwater and saltwater aquariums. If quality and longevity are a concern, titanium heaters are the best because they are corrosion resistant.
Q: What is the energy consumption and running cost?
A: The energy and consumption of a heater depend on its watt rating. The more the watts, the higher the energy consumption and running costs. For comparison, a 19-watt heater will consume about 164kWh annually, costing approximately $16.42.
Q: How often should you replace your aquarium heater?
A: The expiration of your heater depends on its quality. Some can last for many years, while others have shorter longevity. A general rule of thumb is to change the heater every two years just to be on the safe side.
Final thoughts
An aquarium heater is a valuable addition to your tank. Taking time to pick the right one is critical not only to your budget but also to the lives of your fish. With this guide, choosing the right heater and getting it set up is going to be a breeze.