Best 20-inch stands for 10-gallon fish tanks (standard profile)
Updated: February 9, 2023 - By: Steve - Categories: Equipment
For holding a 10-gallon tank, a sideboard or cabinet may work, but with such a multitude of built-for-purpose options, that will support the tank's weight and dimensions, a 20-inch stand will be better in the long term. They come in an array of materials and designs so can fit with the aesthetic of your home, and provide additional storage space for all things aquarium-related to keep from cluttering.
[Comparison table] Best 10-gallon aquarium stands
Model
Our rating
Dimensions
For tanks
Material
Color

Ameriwood Home Flipper 10/20 Gallon Aquarium Stand

#ad
25″ L x 15.7″ W x 28″ H
10-gallon
MDF wood
Black Oak, Rustic Oak #ad, Ivory Oak #ad

Imagitarium Brooklyn 10-Gallon Metal Tank Stand

#ad
20.5″ L x 10.5″ W x 29.5″ H
10-gallon
Metal
black

Aqueon Forge Aquarium Stand 20 by 10-inch

#ad
20″ L x 10″ W
10-gallon
Steel
reversible brown/black wood panels

Caitec Bird Toys TitanEze Double Aquarium Stand

#ad
22.5″ L x 10.5″ W x 31″ H
10-gallon
Steel
black

Aquatic Fundamentals 10-gallon Metal Aquarium Stand

#ad
20.9″ L x 11″ W x 27.8″ H
10-gallon
Steel
Black
10-gallon fish tank stand reviews
Ameriwood Home Flipper 10/20 Gallon Aquarium Stand
This stand has two bases to choose from, 21.3 by 15.7 inches or 25 by 15.7 inches. The smaller fits a 10-gallon fish tank while the larger fits a 20-gallon tank, fitting the dimensions edge-to-edge perfectly. This means if you ever decide to scale up from a 10-gallon to a 20-gallon tank you won't have to spend a dime. Just flip the stand so the desired base for your tank is up.
Flipping the stand #ad
Cabinet #ad
You won't have to worry about finding space for all the accessories and products related to the tank, this stand has a cabinet and two open shelves no matter which way it's flipped. These shelves are a great option for any home décor, while the cabinet can be a discrete place to keep all things fish-related out of sight; maintaining its look as a chic piece of furniture.
The stand is robust and sturdy, coping well in a home with children and pets. Its medium brown wood design gives a classic look that will harmonize with most home styles, providing a minimalist nuance that doesn't outshine the tank it is showcasing.
It does require self-assembly, being recommended to have two pairs of hands, but boasts easy set up with pictured instructions.
Large concealed cabinet and two small open shelves
Support either a 20-gallon high or a 10-gallon tank
Three colors for choice
Stylish design suitable for living room and showroom
MDF is easily damaged by water if the paint is scratched
The concealed cabinet is not big enough for a canister filter
No leveling feet
Aqueon Forge Aquarium Stand 20 by 10-inch
Dimensions: 20″ L x 10″ W
For tanks: 10-gallon
Material: Steel
Color: reversible brown/black wood panels
This aquarium stand is a great option for any aquarist looking for a multi-tank setup as it has two supporting shelves. It is able to hold one 10-gallon tank on the top, and the bottom shelf provides space for a second tank, 5.5 gallons, or any products and ornaments.
Made from steel with a rust-resistant finish alongside reversible wooden panels, providing a bit of individuality, this stand is both durable and stylish. The decorative front panel can be lifted to allow unimpeded access to the bottom shelf, which is especially useful if having a secondary tank.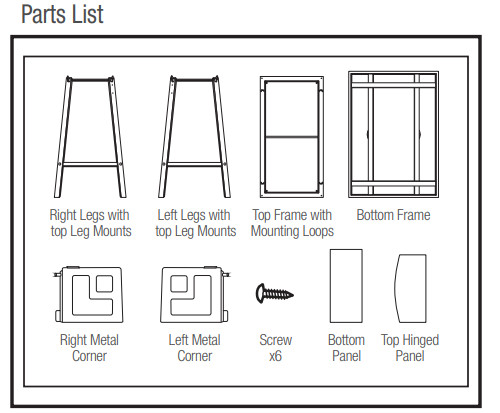 Aqueon Forge aquarium stand components #ad
It comes with eight separated parts and six screws for assembly. An easy seven-step process is all that is required to put them together. The security metal corners provide even greater stability to the top shelf, removing any vulnerability.
Made of durable steel
Very sturdy with metal corners
Support two tanks
Reversible brown/black panels for color choice
No concealed cabinets
No leveling feet
Imagitarium Brooklyn 10-Gallon Metal Tank Stand
Dimensions: 20.5″ L x 10.5″ W x 29.5″ H
For tanks: 10-gallon
Material: steel
Color: black
Combining function with contemporary beauty this steel stand will happily support a 10-gallon tank while enhancing the style of the room. Being made out of metal, it comes with a coated finish to make it resistant to water and moisture, a must with any aquarium stand.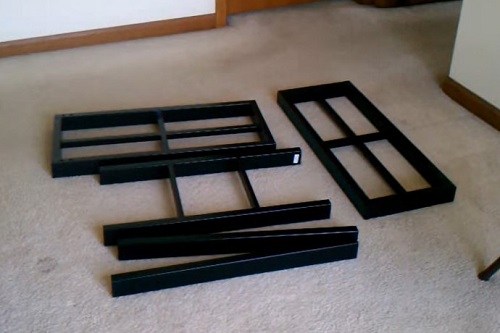 Unbox the Imagitarium Brooklyn aquarium stand #ad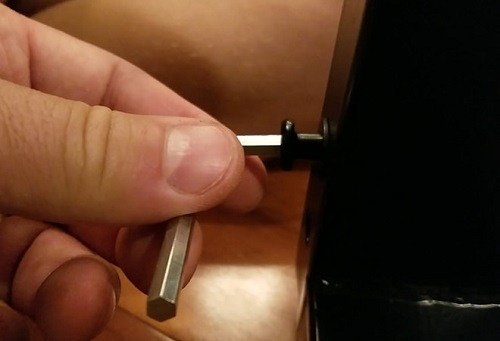 Easy assembly with a hex key #ad
The package comes with two leg assemblies, a top, two steel bars, hex socket screws, and a hex key. It is very easy to assemble the stand with the hex key included. Having an open back means no plug sockets are obstructed from use, giving more options for where you can place it.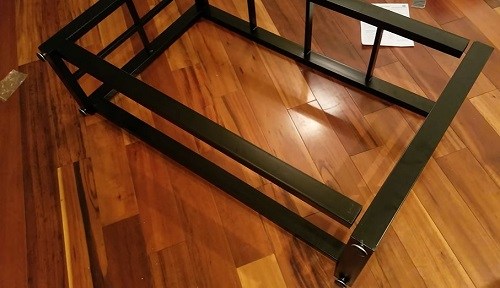 Levelling feet #ad
The most useful feature of this stand is that it comes with adjustable feet to allow for precise leveling before the placement of your tank, removing the possibility of damage caused by imbalance.
If ever leveling up to a larger tank but wishing to keep the same style, this stand has progressively bigger size options to choose from.
Very durable steel construction
Installation easy with just a hex key
Can support a smaller tank at the bottom
Leveling feet for uneven, wavy, or sloping floors
Caitec Bird Toys TitanEze Double Aquarium Stand
Dimensions: 22.5″ L x 10.5″ W x 31″ H
For tanks: 10-gallon
Material: Steel
Color: black
Being a two-tiered stand it is a space saver if considering more than one tank, both shelves capable of holding a 10-gallon tank. Made from steel with double-wall construction and rust resisting powder coat you shan't need to worry about it needing a replacement any time soon.
Support two tanks of the same size #ad
As it is open backed it can be placed easily in front of any needed plug sockets without blocking their usage. This also gives greater options in aquarium setup having space for CO2 supply systems for planted tanks and sump filtration for saltwater aquariums.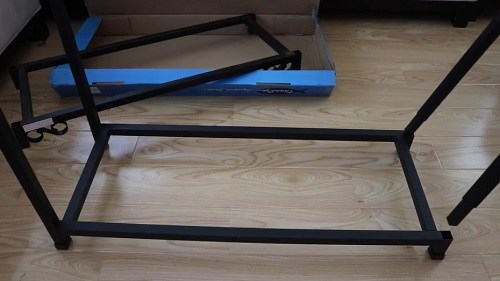 Insert four legs into the base of the stand #ad
Taking no time at all for assembly, with no tools required. Just insert the four legs into the stand base then install the top assembly into the legs and insert protective caps. Being very cost-effective for a 2-in-1 aquarium stand it will make for a great choice.
Support two 10-gallon fish tanks
Very quick and easy assembly
Made of sturdy steel
No cabinet
The top shelf is a bit wide for a 10-gallon tank
No leveling feet
Aquatic Fundamentals 10-gallon Metal Aquarium Stand
Dimensions: 20.9″ L x 11″ W x 27.8″ H
For tanks: 10-gallon
Material: Steel
Color: Black
With a strong, steel construction and a moisture-resistant finish, in black or grey, this stand has longevity in mind. The steel structure means it can support a 10-gallon tank with water with ease.
A bottom shelf can be used for the accompanying fish products or can even support an additional tank! The stand itself has a simple, elegant design, with scroll metalwork running down the sides, allowing it to complement most home styles without sticking out.
For easy assembling of the stand, you should put its parts loosely together then tighten bolts in desired spots to create sturdy support.
This tank can be purchased in 4 other sizes, 20-gallon, 29-gallon, and 55-gallon. So if scaling up in the future you can still have the same style of stand in your home.
Made of durable steel
Very durable and reliable
Support two tanks
Easy to assemble
Stunning scroll pattern
No concealed cabinets
No leveling feet
Frequently Asked Questions
Does a 10-gallon aquarium need a stand?
It is one of the first things to decide with any aquarium, where does it go? Any level, solid piece of furniture that has the measurements of the tank and can handle its weight will be ok.
A well-supported base should have four legs and use a leveler to check it is good enough to hold the tank flat. Any tilt will put water pressure on one side of the tank leading to leakages and damage.
Be mindful that acrylic tanks are lighter but need greater bottom support, while glass tanks are heavier but are better at supporting themselves through their strength.
How much does a 10-gallon aquarium weigh?
When filled with water a 10-gallon tank weighs 111lbs or 50kg, possibly even slightly more if containing heavy decorations like rocks. To test if the furniture can support the tank, first see if it can support the weight of yourself sitting on it.
The stereotypical dimensions are 20 inches by 10 inches, so make sure to also measure any furniture being considered alongside seeing what weight it can manage.
Can I put a 10-gallon fish tank on a desk?
Having your fish on your desk does make for a nice idea, giving you something to watch while working or if tight for space. Yet it will only work if following the criteria previously stated. If it cannot support at least your own weight without issue, then there is a chance of a wet floor and very unhappy fish.
Can a TV stand hold a 10-gallon fish tank?
TV stands have such an array of styles to choose from, which is part of their appeal, but a tank weighs much more than a TV. Having a solid one-piece made of hardwood or a sturdy metal stand will be best. Softwood or a two-piece unit will be likely to bow and bend under the pressure.
How do you make a 10-gallon aquarium stand?
If practically-minded you may wish to DIY a stand, the perks being you can create something specific for your tank and unique to match your home.
Remember to apply the same tips and tricks discussed above to craft your dream stand that will have long-term functionality for your aquarium.
When considering materials do not be tempted to choose the cheaper stuff. It is much better to spend a few extra bucks than deal with the headache of low-quality lumber. Use wood that is straight and un-warped with no open knots and a nice grain.
In preparation measure and mark the wood for all pieces that will be cut for your design, keeping an eye on any flaws such as knots. You don't want to be drilling a screw hole through a knot, so be aware when cutting the wood to keep flaws in parts that won't be integral to its structure.
Lightly sand the "fuzz" off the wood if planning on painting the stand, but if wanting to have the natural woodwork on show it is better to sand more thoroughly. When staining or painting the pieces do so before assembly to give a much neater finish.