SpongeBob SquarePants aquarium: separate decorations and bundles
Updated: February 9, 2023 - By: Steve - Categories: Equipment
SpongeBob SquarePants and his friends are some of the most loved cartoon characters ever, and being funny underwater sea-creatures, they make awesome aquarium decorations and themes. You can make your very own SpongeBob SquarePants scene at home in your own fish tank using some of these great aquarium ornaments. Your friends and family will enjoy seeing your colorful underwater world as much as you do.
Individual SpongeBob Characters
SpongeBob SquarePants
Penn Plax Official Nickelodeon Sponge Bob Aquarium Ornament #ad
Dimensions: 1″ L x 1″ W x 2″ H
SpongeBob is the main character of the show, and no SpongeBob SquarePants-themed aquarium would be complete without him! This friendly sea sponge lives in a pineapple house in the town of Bikini bottom and loves his job working at a restaurant called the Krusty Krab. He shares his pineapple house with an awesome pet snail called Gary that sounds like a cat, pretty funny!
Patrick Star
Penn Plax Patrick Resin Ornament #ad
Dimensions: 1″ L x 1″ W x 2″ H
Patrick Star is Spongebob's best friend in Bikini Bottom, the town where they live. Patrick is hilarious starfish that isn't very smart, but he is a good friend. Patrick and SpongeBob get themselves into all sorts of trouble and adventures, but it always works out in the end.  Patrick's house isn't very nice, in fact, he lives under a rock. Patrick is a very popular character in the show so you should definitely include him in your SpongeBob SquarePants theme aquarium.
Gary
Penn Plax Gary Resin Ornament #ad
Dimensions: 1″ L x 1″ W x 2″ H
Gary is Spongebob's awesome pet snail. When Gary speaks, he sounds like a house cat to us, but SpongeBob can actually understand every meow.  This brightly colored resin model of Gary has a great big smile on his face and will make anyone who sees it smile as well.  Take note that this model of Gary is a little bit larger than the ornaments of the other characters.
Mr. Krabs
Penn Plax Mr. Krabs Resin Ornament #ad
Dimensions: 1″ L x 1″ W x 2″ H
Mr. Eugene Krabs is Spongebob's boss and the owner of the Krusty Krab restaurant where SpongeBob works. Mr. Krabs just loves money and he is always trying to make more of it. Mr. Krabs has a secret recipe called the Krabby Patty that everybody loves and it is Spongebob who cooks them. Mr. Krabs sounds like a pirate when he speaks and his daughter is a whale called Pearl Krabs.
Plankton
Penn Plax Plankton Resin Ornament #ad
Dimensions: 1″ L x 1″ W x 2″ H
Plankton is not a very nice guy, but he is a very funny character on the show. He also owns a restaurant, called the Chum Bucket, but people don't really like his food.  Planktons wife and sidekick is a supercomputer called Karen that he built himself. She works at the Chum Bucket where she cooks and runs the till. He is always trying to steal Mr. Krabs' secret patty recipe so that more people will come to his restaurant, but he never quite gets it right.
Sandy Cheeks
Penn Plax Sandy Resin Ornament #ad
Dimensions: 1″ L x 1″ W x 2″ H
Sandy is another of Spongebob's friends. She is an adventurous squirrel that lives under the sea in a giant dome filled with air.  Sandy loves karate and has to wear a special diving suit to breathe whenever she goes out into the water. All the other characters have to wear a special suit filled with water when they visit her in the dome.
Squidward Tentacles
Penn Plax Squidward Resin Ornament #ad
Dimensions: 1″ L x 1″ W x 2″ H
Squidward is Spongebob's neighbor and he also works over at the Krusty Krab restaurant. Squidward is a very grumpy squid that lives in a house shaped like a Christmas Island statue. His favorite things to do are to paint pictures of himself and play his clarinet. Squidward likes to act like he doesn't like Spongebob, but don't worry, we know that he really does.
SpongeBob's pineapple house
Pineapple House Ornament #ad
Dimensions: 3″ L x 3″ W x 6″ H
SpongeBob lives in a giant pineapple-shaped house. SpongeBob's pineapple house is a great part of any SpongeBob SquarePants Themed Aquarium and really helps to recreate a Bikini Bottom theme. This awesome ornament is built like a cave and it makes a perfect hideout for your fish and small animals like shrimps.
Squidward's Easter Island House
Squidward's House Ornament #ad
Dimensions: 3.5″ L x 3″ W x 6.5″ H
Squidward's house looks really cool and makes an awesome shelter for small fish and animals to sleep and play in. If you have a bigger tank and need more than one cave for your pets, this is a good ornament to get instead of getting two pineapple houses.
Krusty Krab Restaraunt
Krusty Krab Ornament #ad
Dimensions: 3.75″ L x 2.25″ W x 3.5″ H
The Krusty Krab restaurant looks sort of like a half of a barrel. This ornament has great detail, even down to the flags and enter sign in the front of this building. Just like SpongeBob's pineapple house and Squidward's statue house, the Krusty Krab restaurant makes a wonderful place for your pets to play, hide, and sleep.
Chum Bucket
Chum Bucket Aquarium Ornament #ad
Dimensions: 2.5″ L x 2.25″ W x 4.25″ H
The Chum Bucket is Plankton's restaurant and it is a very funny-looking building. This restaurant basically looks just like a bucket with a hand holding onto its handle. There is a door and a sign in the front, and the manufacturers of this ornament have built a very useful cave into the back of it that your pets can use.
All of these great ornaments are made from a fish-safe resin material that is designed to be kept underwater in your aquarium and won't affect your fish or the quality of the water in your tank. Each piece is easy to clean and has great detail and bright colors to really bring your underwater world to life.
These are all small ornaments, so you can use them in almost any fresh or saltwater aquarium size. If you have a medium or large tank, you can get all the characters and buildings for a complete SpongeBob SquarePants theme aquarium.
SpongeBob SquarePants character sets
Penn-Plax Spongebob 6 Piece Ornament Set
#ad
Dimensions: 1″ L x 1″ W x 2″ H each
Instead of getting the characters separately, why not just pick up the whole gang? All the major characters are included except for Gary, so you can just get him separately. All the pieces in this set have great detail and are painted beautifully with big smiles. You can use this set to make a fantastic SpongeBob Squarepants themed aquarium in your room.
SpongeBob Squarepants House And Restaurant Set
SLOCME Spongebob aquarium decorations #ad
SpongeBob's pineapple house: 2.95″x 2.75″x 5.12″
Squidward Tentacles hideout: 3.15″x 2.75″x 5.9″
Krusty Krab restaurant: 3.54″ × 2.16″ × 3.34″
If you have a medium or large fish tank and want to make a great SpongeBob SquarePants theme in your aquarium, why not pick up this set? It includes the 3 most important buildings in the show, and every one of them makes a great little hiding spot for your fish and shrimp. Use your own creativity and arrange the Krusty Krab restaurant, SpongeBob's house, and Squidward's house in your own way.
SpongeBob SquarePants aquarium ornaments, 7-piece set
SpongeBob SquarePants 7-piece set #ad
This is another great set and this one includes the 7 most popular SpongeBob Squarepants characters that we know and love. Get SpongeBob, Gary, Patrick, Squidward, Mr. Krabs, Plankton, and Sandy for your aquarium and arrange them in an awesome and unique way to show off your creativity.
How to set up a Spongebob fish tank?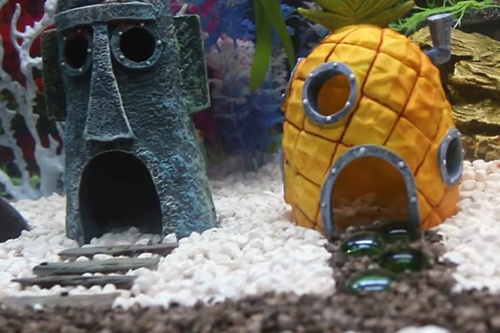 If you're planning on setting up a SpongeBob SquarePants theme aquarium, you probably already love the show. If you haven't seen it though, and just like the look of these funny sea creatures, you should definitely watch a few episodes to get some inspiration. You will probably love the show so much that you won't want to stop watching it!
Once you know a little bit about the show and the personalities of the different characters, it's time to get decorating.
If you love the show and have a favorite episode or scene, you can even recreate it in your very own aquarium. Watch your favorite episode a few times and save some screenshots to help you set the scene perfectly.
The great thing about a SpongeBob SquarePants theme fish tank is that you can use your own creativity to set the characters out just as you wish. You could have all the characters near each other, interacting in some way, or spread out throughout your tank.
If you have fish and animals that like to hide, make sure you get the houses and restaurants from the show. Spread these ornaments out in the tank rather than setting them up close to each other so that your pets can set up their own territories.
If you watch the show, In most cases the ground is a yellowish color, so you could use yellow gravel for the floor of your tank, and even make your own roads between the buildings out of dark grey gravel, just like in the show.
A few small artificial plants or even real plants can also really add to the scene, although you don't see very many trees or plants in the show so don't worry if you don't have any in your tank.
When setting up a SpongeBob Squarepants theme aquarium, it is important to remember the basics of maintaining a healthy fish tank. Make sure you have a good filter and a heater in your tank to keep the water safe and comfortable for your fish.
Use a water conditioner when changing putting new water into your tank during your regular water changes and make sure you don't keep too many fish in your tank or feed them more food than they can eat at a time.
Frequently Asked Questions
Can you use aquarium decor for snakes?
You can definitely use aquarium decorations in your snake enclosure. Snakes also love to hide in caves just like some fish do, so don't be surprised to find your pet snake curled up inside a cave ornament or even SpongeBob's pineapple house.
What can I use to clean my fish tank decor?
Most fish tank decor is beautifully hand-painted and to be on the safe side, you should only use a soft brush to clean them so that you don't scratch the paint. An old toothbrush makes a great brush for cleaning your ornaments.  It is better to use only water, and no soap,  while washing them because you don't want to add any harsh chemicals to your aquarium that might harm your fish.
Should I clean my fish tank decorations?
You don't have to clean your aquarium decorations, but they probably will get dirty in time. Algae might start to grow on them, covering up the colors and details. To keep your ornaments looking colorful and clean, wash your ornaments regularly. Another thing that can really help to keep your SpongeBob ornaments clean is to keep algae-eating animals in your aquarium like Amano shrimps, Otos, or Siamese algae-eating fish.
Where to buy aquarium decor?
You can buy aquarium decor online or from your local pet shop. Amazon.com is a great place to shop for new aquarium decor because they have such a great variety and you can have your new ornaments delivered to your home. Portland aquariums have put together the best collection of aquarium decor on Amazon, from sunken ships to cave decorations that you can choose from.
Can you bleach aquarium decor?
Bleach will work to clean aquarium decor but its use is not recommended for colorful ornaments like SpongeBob decor. The problem with bleach is that while it does clean your decorations, it also tends to cause colors to fade, and your SpongeBob decorations will look their best when they are bright and colorful.
Final Thoughts
If you're looking for a really fun and great-looking aquarium that will impress your friends and family, a SpongeBob theme tank is a great way to go. This is easy to do and the result is a very low-maintenance aquarium that will bring a smile to your face every time you see it. Let your creativity run free and enjoying setting up SpongeBob and all his friends in your very own Bikini Bottom environment.