Castle decorations for small to large aquariums and setup ideas
Updated: February 9, 2023 - By: Steve - Categories: Equipment
Castle ornaments are a classic decoration for aquariums that look great and add structure and character to any fish tank. Castle aquarium decorations don't only look great though, they also add structure and hiding places for shy, nocturnal, and territorial fish and animals.
Best castle aquarium decorations
Penn-Plax Castle Aquarium Decoration Part A
Penn-Plax Castle Aquarium Decoration Part A #ad
Dimensions: 12.8″ L x 8″ W x 14.8″ H
This hand-painted castle ornament looks great and provides an interesting structure in your aquarium for fish and shrimp to hide in and explore. This is a large ornament that will work best for tanks of 29 gallons or larger.
It is made from a long-lasting, aquarium-safe resin so you don't have to worry about the safety of your pets. This decoration has very fine detail and even has a painted waterfall feature.
Penn-Plax Castle Aquarium Decoration Part B
Penn-Plax Castle Aquarium Decoration Part B #ad
Dimensions: 12.8″ L x 8″ W x 14.8″ H
This ornament can be used on its own or combined with the previous decoration to create the ultimate medieval castle-themed aquarium. Your fish will feel like royalty as they enjoy the swim through sections and hideaways in this beautiful piece. The holes in this castle ornament make perfect hiding spots for shrimps and other small animals.
SLOCME Fish Tank Castle Aquarium Ornament
SLOCME Fish Tank Castle Aquarium Ornament #ad
Dimensions: 8″ L x 3″ W x 5.8″ H
This small castle ornament provides two swim-through caves and is suitable for smaller tanks from about 10 gallons and up. It has an intriguing ruined castle look with trees and plant details that will look great in your tropical aquarium.
This decoration is constructed from a non-toxic, eco-friendly resin and provides long-lasting color to your underwater world. This is a fantastic piece for both fresh and saltwater aquariums
SLOCME Classical Resin Castle Decoration
SLOCME Classical Resin Castle Decoration #ad
Dimensions: 6.7″ L x 3.9″ W x 5.5″ H
The Slocme classical eastern tower will look great in just about any aquarium. This castle even comes with its own garden in the form of plant details that add even more beauty to the ornament.
This beautiful ornament is built to stand stable in the tank and will fit perfectly in small to medium-sized aquariums. This piece is built from a non-toxic resin that is safe to use in fresh and saltwater fish tanks.
Penn-Plax Wizard's Castle Aquarium Decoration
Penn-Plax Wizard's Castle #ad
Dimensions: 8″ L x 6.2″ W x 10.2″ H
This wizard's castle ornament has great detail and features a classic and mysterious-looking castle set on a rocky mountain. This ornament creates a large cave-like shelter at its base that shrimp and shy fish-like loaches will love.
This piece is made to be durable and perfectly safe for your aquarium, whether you keep reef or freshwater fish. At 10 inches tall, this hand-painted ornament is ideal for medium-sized aquariums. Place this double-sided castle ornament anywhere you like in your tank, it looks great from any angle.
GloFish Castle Ornament for Aquarium
GloFish Castle Ornament for Aquarium #ad
Dimensions: 3.1″ x 3.9″ x 5.3″
This castle ornament has been specially designed to glow under fluorescent lighting and is perfect for Glofish tanks. It is a fun decoration that provides plenty of swim-through holes to keep your fish entertained and give the small animals in your aquarium a place to relax.
Although this colorful castle looks great under any lighting, set this ornament up under Glofish LED lighting and combine it with other glowing ornaments and watch your underwater world come to life.
Penn-Plax RRW7 Magical Castle Ornament
Penn-Plax RRW7 Magical Castle Ornament #ad
Dimensions: 6.9″ H
Get creative with this durable castle ornament from Penn-Plax. It is made from fish-friendly resin with long-lasting color and works well in small aquariums from about 5 gallons and up. This piece has great detail that will bring wonderful character to your underwater world.
Small fish like tetras and danios will love swimming through the archway on this medieval castle. Use this ornament in both fresh and saltwater fish tanks where it will make a wonderful background feature in your aquarium.
Miracliy Aquarium Castle Decoration
Miracliy Aquarium Castle Decoration #ad
Dimensions: 9.4″ L x 3.4″ W x 10″ H
This great aquarium castle ornament by Miracliy has a really cool cascading river detail that will look amazing in your medium to large aquarium. It is safe to use in both saltwater and freshwater aquariums.
Your fish will love swimming through the tunnels underneath this magical castle. This ornament has a flat bottom and will stand safely and securely in your tank. Use blue and white, or purple light to bring out the best colors in this underwater castle.
Pen Plax RR693 Medieval Castle of Germany, Small
Medieval Castle of Germany #ad
Dimensions: 8 x 10 x 11 inches
This German medieval-style castle has multiple swim-through tunnels that your fish will love. It is a fantastic aquarium decoration for fresh and saltwater fish tanks and it is made from a durable resin that won't affect your water quality.
This ornament is quite tall and will fit well in tanks of 15 gallons or more. It makes a great under-the-sea castle, with colorful coral-like accents. The large cave feature is also great for territorial or shy fish that like to hide.
Tinsow Aquarium Resin Castle Decoration
Tinsow Resin Castle Decoration #ad
Dimensions: 5.3″ L x 2.1″ W x 5.1″ H
This aquarium castle ornament has vivid colors and provides great passages for your fish to enjoy playing in. The painted river and staircase details are enchanting and the beautiful natural colors won't fade.
This is a compact decoration that is good for small aquariums with territorial nano fish like Scarlet Badis. It can also be used in the foreground of larger tanks.
M2cbridge Castle Fish Tank Decoration
M2cbridge Castle #ad
Dimensions: 6.5″ L x 4.5″ W x 6.3″ H
The M2cbridge castle fish tank decoration can be used to make a great Disney theme that kids will love. It has great detail, and the painted green grass accents look beautiful.
This ornament is ideal for bettas and fits really well in the midground of smaller tanks. Pair this castle decoration with something like a dragon ornament to complete the medieval theme. This castle works really well for territorial fish like small African cichlids.
Aquarium Castle Hideout Decoration
Castle Hideout Decoration #ad
Dimensions: 9.6″ L x 5.3″ W x 7.5″ H
This wonderful aquarium castle decoration has realistic plant details and will fit in perfectly with a jungle theme aquarium. It is full of tiny hiding spaces that shrimp will love to explore.
This decoration will fit best in aquariums of 10-15 gallons, but will also look great in smaller and larger tanks
How to choose castle ornaments for the aquarium?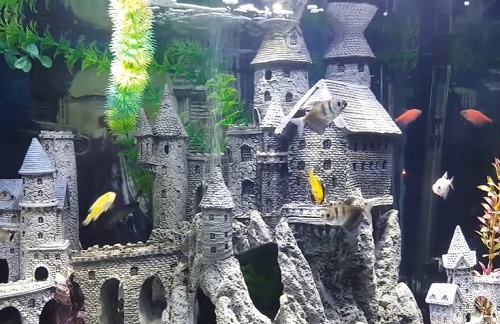 Castle ornaments look great in almost any aquarium, but how do you choose the perfect one for your tank?
The most important thing is to choose an ornament that is safe to put in your aquarium. All of the ornaments on this page make great choices.
Size
The next thing to consider is the size of the castle ornament, especially if you keep schooling fish like tetras that need a lot of room to swim. Make sure that after you've put your castle ornament in the tank, there is still plenty of space for your fish to swim freely.
Many fish will love swimming through the holes in these ornaments, and shy and nocturnal fish will love hiding in the caves they provide. Choose an ornament that has big enough holes for your fish to swim through safely, you wouldn't want your fish to get stuck or hurt themselves.
Themes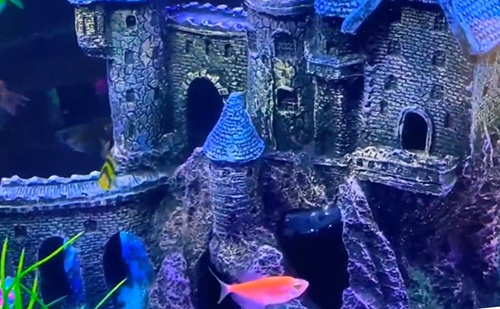 Apart from these important considerations, it is really up to you and your own sense of style and creativity. You can also use other ornaments or items in your aquarium to create a magical underwater world. These items can include other cool decorations like dragons, mermaids, or seahorses.
Great lighting, especially colored lights or black light will make your amazing castle world look even better, and interesting or colorful aquarium gravel can further enhance your enchanting underwater fantasy world.
You could even plant some aquarium plants, or use artificial plants to create an underwater forest around your castle for a magical ancient aquascape.
To get you started, here's a couple of great underwater castle themes to recreate in your aquarium:
The little mermaid
Game of thrones
Ancient worlds
Lost temple
How to clean aquarium decorations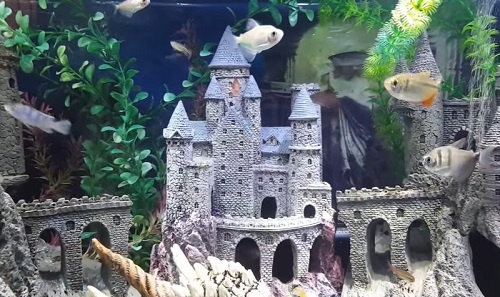 It is always best to remove the ornament from your tank to clean it. You can do this during one of your regular water changes to limit the amount of disturbance to your fish.
Use warm, but not very hot water and a soft brush like an old toothbrush or a cloth to give your castle ornament a good clean. Remember to be gentle and use a soft cleaning material because you don't want to damage the paint. It is better not to use household cleaning sponges because often they are treated with anti-microbial chemicals that can kill the beneficial bacteria in your tank.
Sometimes, if you haven't cleaned your aquarium ornament in a while, the algae that grow on its surfaces can be quite difficult to remove with just a brush and water.
In that case, use a very mild bleach solution and warm water and soak the ornament for at least 30 minutes. Remember not to make the bleach solution too strong because it might damage the paint on your ornament.
After soaking, the decoration should be easy to clean. After cleaning, rinse the ornament really well and add some water conditioner to your aquarium when you put the decoration back in to neutralize any chlorine.
Frequently Asked Questions
How to clean your new aquarium decoration before use?
The best thing to do before putting your new aquarium decoration in your fish tank is to rinse it in warm but not hot water. You can give the ornament a light scrubbing with a soft brush or cloth as well to remove any loose dirt from the factory. To be extra safe, you can let the ornament soak in a bucket full of water for a few days. Change the water every now and then before adding the new decor to your aquarium.
Can you use reptile decor in a fish tank?
Using decorations that are not designed for aquarium use can be very risky for your precious pets. Not all materials will remain stable when submerged in water.
Depending on what the ornament is made of, it might release harmful chemicals into the water that could make your fish and animals sick, so remember to use only aquarium ornaments in your fish tank.
Can you use aquarium decor for reptiles?
Yes, you can use aquarium decor for reptiles. Of course, you will need to match the decoration to the size of your reptile and the size of its enclosure, however.
Reptiles like Leopard geckos and small snakes will love to hide inside aquarium ornaments, just make sure there are no sharp edges inside that could harm your pet.
How often should you clean aquarium decorations?
After a while, you can expect some algae to build upon your aquarium decorations. This is not a bad thing, in fact, it is quite natural, but it doesn't look very good.
You can wait until your ornaments really need to be cleaned, but it is better to make cleaning your decorations part of your regular maintenance schedule and give them a good cleaning when you do your partial water changes every week or second week.
Can you create your own aquarium decor?
It is best to buy specially made aquarium decorations rather than trying to make them yourself. Some materials release dangerous chemicals into the water that could harm your fish. You could use aquarium-safe materials like rocks and driftwood to create your own decorations but avoid putting anything made of plastic, metal, or anything with paint on it in your tank.
Other materials that are often used for making do-it-yourself aquarium decorations are PVC pipes and clay pots. Just be sure to wash these materials thoroughly before use and never put anything in your aquarium that has been exposed to toxic materials or chemicals.
Final Thoughts
Castle ornaments are some of the best-looking decorations you can put in your aquarium. Your fish and shrimp will love them too. Now that you've seen a great selection of aquarium castle decorations, what are you waiting for? Pick up one for your aquarium today and keep the magic alive.